The Ultimate Guide To Amazon Brand Registry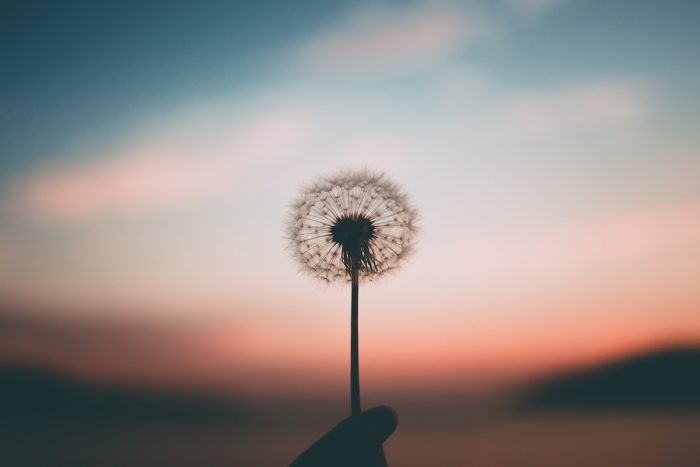 This guide should help you understand the benefits of using the new Amazon Brand Registry Program to enable you to sell your branded products on the platform without having to deal with competition. There are many advantages to owning your own brand on the Amazon website, but there can also be several pitfalls to slow down your process in gaining acceptance into this program. We've collected the most helpful tips to registering your brand on Amazon successfully, so before you dive in, you'll want to take note of the items you will need to complete this process smoothly.
Due to the unique way that Amazon is setup (using complex algorithms that compile product data from multiple sellers), it can be easy for product information to get distorted or in some cases result in product information being listed completely wrong. Amazon Brand Registry allows you, the manufacturer, to take control of your product listings and verify that the most accurate and up-to-date information is listed and available.
Amazon Brand Registry can also be especially useful if you have multiple retailers selling your products online. Whether you are selling a private labeled product you are buying wholesale and retailing on Amazon, or you are managing the sale of a brand from a manufacturer, you'll be able to add some powerful features to your listing as a brand representative on Amazon using the Brand Registry.
As a brand in the Amazon.com marketplace, choosing your products' brand name and brand identity is an important step that is often overlooked by new sellers. If you think about the customer's journey, Amazon customers often begin their online shopping by searching for a brand name, if they're aware of one, when they begin looking for a particular type of product. By investing in a brand name with your Amazon products, you'll help protect your registered trademarks (on Amazon) and create an accurate and trusted experience for customers that will increase sales and ward off competitors.
How You Can Protect Your Brand on the Amazon Marketplace
One of the greatest fears that private label sellers have when selling their own branded products is that another merchant is going to hijack their product. Many sellers may be sourcing from the same vendors, or easily able to retrace your steps and try to cut into your market share on your own hard earned listings. Amazon is such a competitive marketplace that many sellers are willing to go to great lengths to get ahead, while others are working just as hard to maintain their positions.
What Amazon Brand Registry does for you as a seller is it lets you register your branded products so you're able to have sole ownership of the Buy Box for these products. Even if other sellers eventually do try and hijack your product sales page with similar listings, you'll be able to simply contact Amazon and have their listings removed. New proprietary tools are even recently being added such as, "text and image search, predictive automation based on your reports of suspected intellectual property rights violations, and increased authority over product listings with your brand name."
These are key advantages that first time sellers often don't consider, because they haven't been involved in a contest over the rights to a particular product on the marketplace – yet. Enroll as soon as possible so your brand and Amazon can work together to reduce these potential intellectual property rights violations and promote an accurate representation of your brand on Amazon.
Pros to using Amazon Brand Registry:
Having a Trademark helps you protect your brand.
The Brand Registry is being improved and Amazon is adding more ways to protect you as sellers from counterfeits and hijacking.
New proprietary tools are being added such as, "text and image search, predictive automation based on your reports of suspected intellectual property rights violations, and increased authority over product listings with your brand name."
New features for Brand Registered sellers, including the ability to upload custom videos to your product page, have a unique Amazon URL and more customizable product details.
Cons to using Amazon Brand Registry:
You must go through the process of getting a registered Trademark which takes time and has associated costs.
For full protection under the new Brand Registry, you need to re-enroll existing brands that were registered under the old system.
For new product launches, you may not be willing to invest in a Trademark until the product is selling successfully.
Where Should You Start When Building A Brand On Amazon?
Creating a brand on Amazon requires careful consideration of a unique and memorable name and a logo that will resonate with customers to help build brand awareness and contribute to the popularity of your brand on Amazon. A brand name represents your products. It is a word, design, symbol, or other feature that distinguishes your product from others. A logo is a graphic mark, emblem, or symbol commonly used to promote instant recognition by customers. When you have a brand name and logo, you can display them in multiple places like product detail pages, tags, packaging, poly bags, and on the product itself. This helps customers recognize and remember the brand. The more places you display your brand name, the more brand awareness you can generate.
Amazon requires you to have an established business to represent your brand on their marketplace, so you'll need to create an LLC or DBA with a connected Federal Tax EIN and bank account. You'll also need to be a Professional Seller on the marketplace, which costs $39.99 per month. A website for your brand will help you establish your company outside of the Amazon marketplace, but it will also help in the verification process when registering your brand. In addition to these business requirements for your brand, you'll need to have all of the following items when registering your brand:
Brand name that has a live registered trademark.
An official email address for your brand or business.
A website for your brand and product and brand images.
Images of the brand's logo.
Images of products and packaging that carry the trademarked brand name. If the product is not branded, then at least the packaging itself must be branded.
A list of product categories (e.g., clothing, board games, electronics) in which the brand will have products listed.
A list of countries where the brand's products are manufactured and distributed.
What you will need to register your Trademark:
A legal business, or you can register as an individual with an EIN code if you are just starting out and haven't registered an LLC yet
A logo or mark that you want to use
A full legal name and address of the owner (seller)
A copy of the product as an example that shows how you are using your mark in commerce – this could be a picture of your product
The date you first started using your logo or mark or shared it anywhere
Which International Class you plan to use
If you own the trademark for the brand name that appears on your products and packaging, you are eligible to apply for Amazon Brand Registry. Once enrolled, you will then be able to create Enhanced Brand Content product descriptions and can also control most detail page content on your branded products across the marketplace.
Grow your Amazon business
Discover what profitable products you can start selling today with Egrow software.
Setting Up Your Brand Registry Account
One of the key changes that has been made to the Amazon Brand Registry Program is the requirement to obtain a trademark before enlisting in the program. The first step is to acquire a trademark if you do not have one, but you will also have to wait until your trademark is processed before you will be allowed participate in the program. Amazon also prohibits the registration of two specific categories:
DVDs, Videos, Music, and Books
Products that fall in the categories of sports collectible and entertainment
Remember: Amazon Brand Registry is only for sellers who are brand owners, manufacturers of products, and distributors or resellers who have written permission from the brand owner to oversee a specific product on Amazon. If you don't fall into one of these three categories, then you won't be granted approval.
When you're ready to sign up for a Brand Registry account, you should use the same username and password that you use to sign in to Vendor Central or Seller Central when you create your Brand Registry account. Using the same username and password will ensure full access to the features and benefits from vendor and seller services linked to your Brand Registry account.
Step 1: Complete the three question Brand eligibility section of the Brand Registry application:
The first question will ask for your Trademark Registration or Serial Number. If your trademark is registered outside of the USPTO, then you'll be able to use the drop down menu to select from offices in Canada, Germany, Spain, France, India, Italy, Japan, Mexico, United Kingdom and Europe to select the country that matches your Trademark Registration or Serial Number.
Then, Amazon will also ask if your products and packaging have a permanently affixed brand name and logo. You will need to answer yes, and comply with these guidelines. If you don't have your brand name or logo attached to your packaging then unfortunately you won't be able to participate in Amazon Brand Registry.
Important: For USPTO marks, the Mark Drawing Type must be equal to "4 – STANDARD CHARACTER MARK" or "1 – TYPESET WORD(S)/LETTER(S)/NUMBER(S)"
In other words, if you've received a trademark for a stylized logo, then this will NOT be eligible for Amazon Brand Registry. You'll need the standard character mark e.g. "Your Brand" in text.
Step 2: Upload your product, packaging and logo images, making sure to include the brand name on the product and packaging.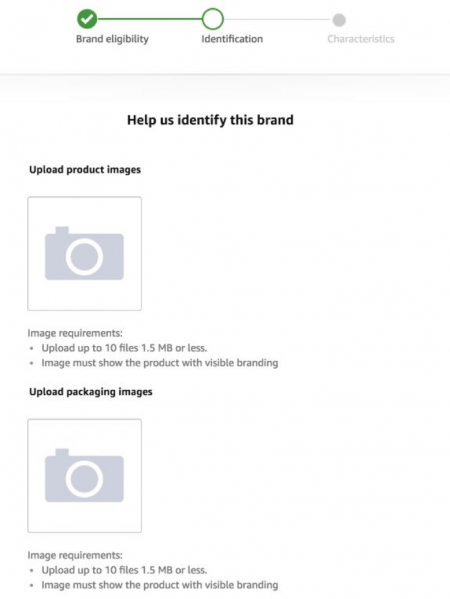 Step 3: Complete the additional Characteristics section of the application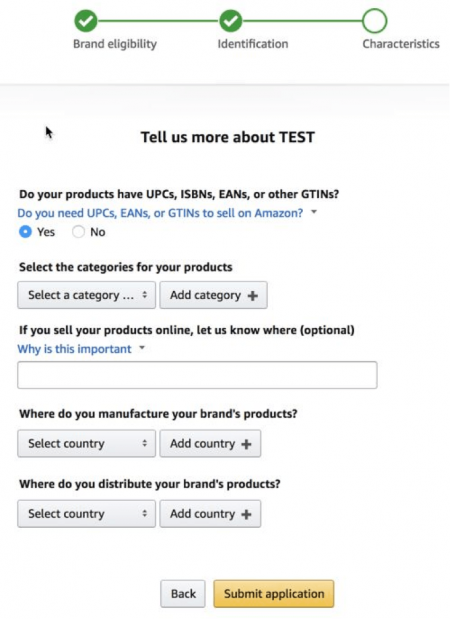 You should already have one or more UPC codes connected to the ASIN or ASINs of the products that you're selling on Amazon, so enter them here. You'll also want to list a primary category or categories that you sell your products under.
If you've already got a website for your brand, then you can enter that here, but only include your brand website if you're selling your products on that domain directly. In order to make the approval as simple as possible, create a single page which displays the images of your product with the logo or branding visible, and include the package as well. Use the same images you will submit with your application. Also, have your logo and branding visible on the page itself, for example a header image with the name of your company, the name of the brand you are registering and logo.
That's it! The application process overall is fairly simple. After you submit, it should take about 2 weeks to get a response back from Amazon.
Note: If your application was denied, don't panic, it isn't the end of the world. Read the message carefully, and try to understand what the reason for the rejection was. The email can be vague and confusing. Most of the times it will be for one of the requirements not being present on the website. The email address or phone number is a very common one. Another of the most common reasons a brand registry application is denied is not having an image of the packaging with your brand visible. Amazon requires the brand or logo to be actually printed on the packaging, not a sticker. Some applications have been approved using a sticker, but this has become increasingly more rare. When you have reviewed the requirements and made any changes needed to meet them, reapply.
So, What If Somebody Is Infringing On My Brand's Product Listings?
While having your brand registered, does not mean that other sellers can not list your products for sale, Amazon will give your edits to the product listing preference over those made by other sellers. By having page detail control over your listings, it is less likely that another seller will be able to change information in the listing such as images and bullet points. This is especially important when you have crafted a well optimized listing with a high conversion rate.
As part of the recent changes to the Amazon Brand Registry Program, you'll be able to report instances of infringement when you find a seller who is listing your products for sale without authorization or attempting to edit the product details on Amazon. Amazon provides a public Report Infringement form for reporting alleged intellectual property infringements such as copyright, trademark and patent concerns. The process has been made much easier than how things were handled before, where you had to contact an Amazon representative directly with details of your complaint, but now you'll be able to easily search through the query tool to find the listing which is violating the Brand Registry policies.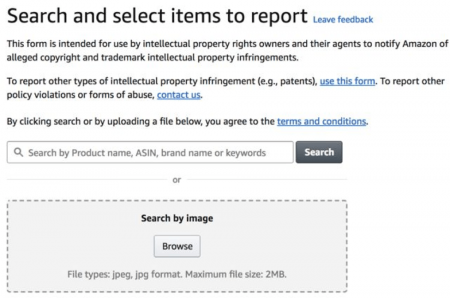 Overall, Amazon now offers more control over your brand by making it much easier to find and report companies that are infringing on your brand. This new feature should help cut down on hijackers and counterfeit products because it's much easier to find and report the infringements. Amazon has also promised to quickly reply to these infringement claims so that brand owners are better protected from abuse. The Amazon Brand Registry is a sure way of assisting your company to grow into a legitimate force to reckon with. Failing to register your product puts it at risk of being taken over by hijackers.
Final Disclaimer: Even if you have your products listed and achieve Brand Registry you may still need to activate it for your products. The most common reason for this is if you signed up for Brand Registry and selected a brand activation method such as UPC code, Manufacturer Part Number (MPN) or Catalog Number. You can check this by going to Reports – Business Reports – Brand Performance. ASIN's listed here have been actively enrolled in Brand Registry. If you do not see any or all of your products listed in the Brand Performance you will need to do a partial update using the UPC code, manufacturer part number or catalog number. To accomplish this easily, activate the Category Listing Report, download for the category your brand is listed in and remove all data except the required data and the activation method and do a partial update using a flat file template.
Never miss a story from Egrow blog
Your Information will never be shared with any third party.