The Complete Guide To Amazon Drop Shipping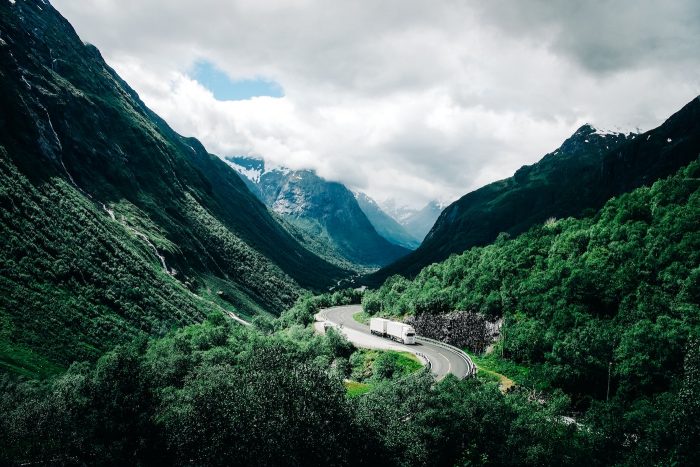 We wanted to explain the process of drop shipping, how it works, what the pros and cons are of choosing a drop shipping business model, and how you can get started. The guide focuses on our experience with drop shipping on Amazon, since there are specific guidelines that must be followed or else risk your ability to continue selling on the platform. Much of what is explained here is specific to selling on the Amazon platform, but you can apply these steps to get started with drop shipping on many other sales channels as well. We hope to answer any of your questions about how drop shipping on Amazon works, but if we forgot to add something, please leave us a comment below and we'll address it!
What is Drop Shipping?
Drop shipping is a process within the field of ecommerce for selling products without carrying the actual inventory or personally shipping any goods. This process can reduce many responsibilities that ecommerce sellers have, like managing inventory and holding on to large quantities of products before testing the market demand. The product's manufacturer is responsible for manufacturing the product, maintaining the inventory, and also shipping the goods directly to the customer. What's most important is that dropshippers are able to set their own prices for the products they sell, which offers a predictable profit margin.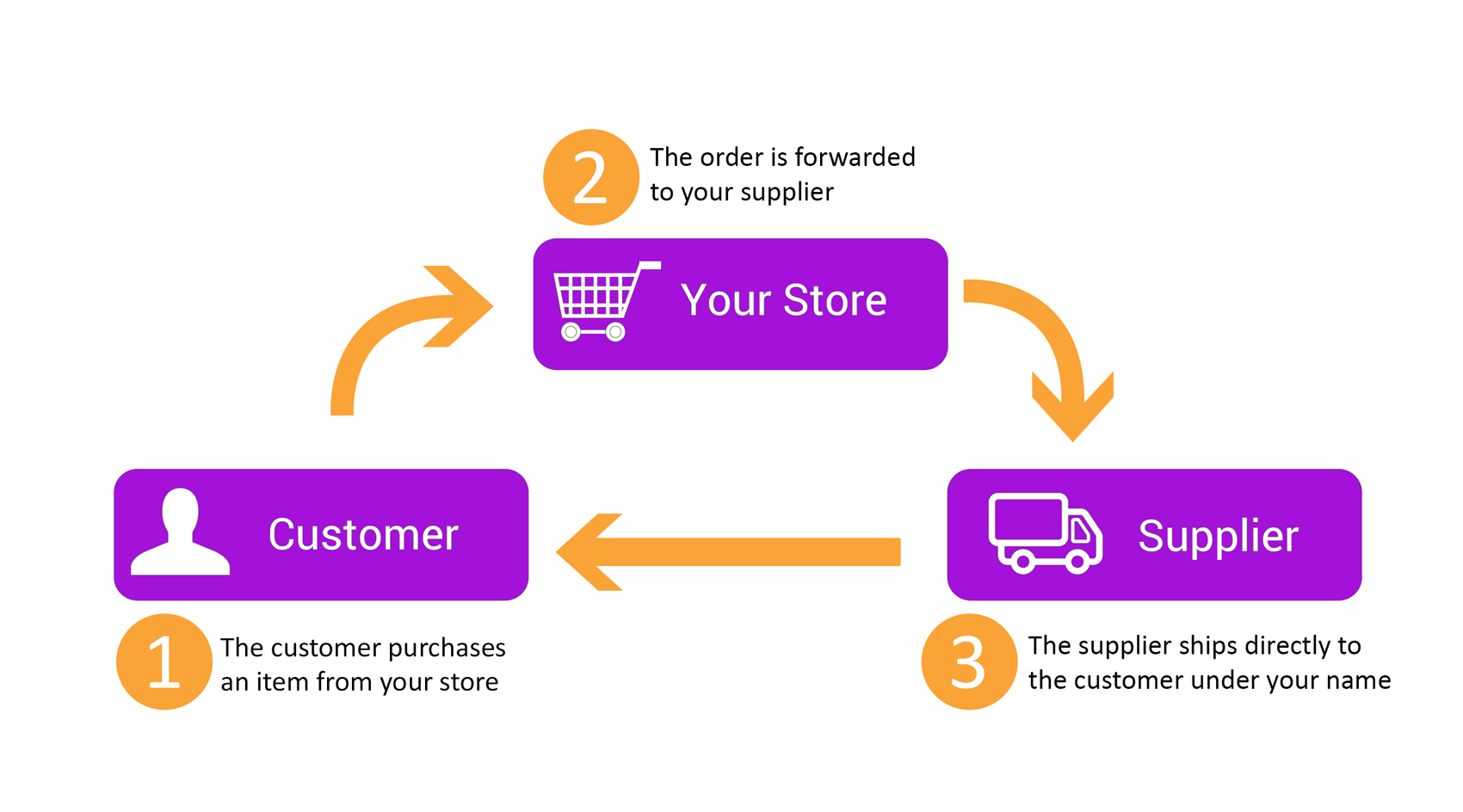 The Main Benefits of Drop Shipping
In this guide, we'll explain some of the key benefits to Amazon drop shipping that'll help you understand why and how to dropship products on the Amazon Seller platform:
– Maintaining No Inventory
The biggest benefit of drop shipping is that you don't need to carry any inventory or have a warehouse. This is a great benefit since makes it less risky for dropshippers to test new products and scale the ones that do pay off. Because there's no inventory to manage, there's less work involved in operating your business.
– Start With A Few Simple Skills
You don't need a lot of skills to have success in a drop shipping business. As a dropshipper, you only need to be good at product sourcing, marketing, a few administrative tasks, and provide great customer service. If you can master those skills, you'll be able to achieve great success in the long run as a dropshipper on Amazon.
The trickiest part is developing an awareness of products that have a customer demand, but also aren't being offered on Amazon with a price too low to profit from. That's alright, because you can continue to experiment until you find suitable products for the Amazon marketplace. By developing great marketing skills, you'll then be able attract more customers to those successful products.
Since dropshippers don't carry any inventory themselves, they're able to maximize their marketing efforts without worrying about managing that inventory or the usual costs of labor and having to ship various products.
For the administrative tasks, dropshippers will have to process their orders, pay for expenses and taxes. Luckily, this can be figured out beforehand, which can result in reliable profit margins once a product takes off.
By providing the best possible customer service, you'll be able to maintain positive relationships with your customers and receive reviews and repeat purchases.
– Quick and Easy to Set Up
Starting your drop shipping business is relatively easy, compared to other traditional sourcing methods. You could easily set up a store within a day using a service like Oberlo, where all you'll have to do is choose products from an approved Oberlo supplier. Many drop shipping stores choose to sell products that they find at a deep discount on websites like AliExpress.
When compared with buying inventory for a traditional ecommerce store, you won't have to wait to receive the inventory or take many product photos. As a dropshipper, you can quickly import the existing product details like the specifications and related images.
– Easily Test New Products
One of the greatest benefit of drop shipping is that you can test new products in your store very easily. Because you don't carry the inventory in-house, you can promote new products by using ads to see which products will convert the best. If certain items don't perform very well, then you can simply remove the listings from your store and move to another. Using this method, there's no cost, aside from advertising, for choosing a low performing product.
If you want to eventually purchase some inventory to get better prices from your supplier, then you'll already know which products are selling the best, along with how many SKUs you can afford to stock.
– Start Up Costs Are Low (or Zero)
A drop shipping business is very low cost, in fact, the start up cost is zero. Since you only purchase the products after a customer places an order, you'll be paying with their funds (which include your expenses and profit). And because there's no warehouse required for inventory, you won't need to hire employees to manage shipping your products.
Your primary expenses will include the cost of purchased goods, advertising (if you choose), and website (if you choose). Many of the platforms you can dropship on, like eBay, are free to sign up and test the market with various products until you find a winner. Just remember that each platform you sell on will have a different customer base with various interests, along with competitors who might be willing to price the same products below your desired profit margin.
Why Choose to Dropship on Amazon?
So what makes the Amazon seller platform one of the best to learn how to dropship? We'll explain a few of the main reasons why you should consider this site to explore drop shipping:
– No warehouse fees
One of the best reason to dropship on Amazon drop shipping is that you won't have to pay for the cost of a warehouse, and products are considered "merchant fulfilled". Some Amazon sellers choose to make their products available more quickly to customers by using the FBA (Fulfilled by Amazon) program. Using FBA, sellers will ship their inventory to Amazon and then Amazon will store and ship the products out as customers make purchases. This requires a lot more upfront costs and logistics issues that can be circumvented by drop shipping directly from the supplier.
– A large, established audience to sell to
Amazon currently has over 310 million active users. This makes choosing Amazon as a sales channel for your drop shipping business can bring large sales volume. If you're able to sell the right product at the right price, you can attract many new customers with good customer service. Your store might even attract customers from Amazon to a website, where you can seek higher margins and lower fees.
– Lower advertising costs
Amazon ads can enable you to quickly increase sales, while building a positive reputation on Amazon's marketplace. You're able to control how much or how little you want to spend, and there are no minimum requirements to get started. You'll also benefit greatly from the organic traffic that follows these advertised sales in the long run. If you put in some effort into optimizing your product pages, you'll increase your chances of getting more organic traffic. The cost of using Amazon ads is actually set by you as a seller, so you can experiment until you find a method that works best.
The Downside to Amazon Drop Shipping
Amazon does have a few restrictions that might prevent dropshippers from being able to sell on the platform, or at least to do the best they can. They allow dropshippers to sell on the platform, but you can only dropship using Amazon's FBA program to ensure the products are delivered to their standards. That's what makes it a bit tricky to understand how to dropship on Amazon. According to Amazon's Drop Shipping Policy, it says that "Purchasing products from another online retailer and having that retailer ship directly to customers" is not allowed on their platform. That would be something you may want to try to do on eBay or another online retailer before migrating your successful products to Amazon FBA.
How Selling on Amazon FBA Works
Amazon is one of the largest ecommerce websites today, and it's still growing! It rose in popularity partly because they allow third-party retailers to sell their products on their platform, with a wide range of categories to choose from. Manufacturers and brands are invited to sell their products on Amazon as an extra sales channel, and many find great success reaching the millions of active Amazon shoppers. After your Amazon seller account is approved, then you'll be able to list your products on Amazon, although not all brands or products may be approved.

So, how do you actually start drop shipping on the Amazon platform? You're able to dropship on Amazon by using the Fulfilled by Amazon program. How this program works is you first ship your products to Amazon, they will store the inventory, and then ship directly to customers as they make purchases. A huge benefit of using this program is that Amazon has free 2-day shipping for customers who order via FBA, so your products get to them even sooner. If you want to learn more, read our full guide on how to use Amazon FBA.
Selling the right products
There are a few requirements and some restrictions that sellers must follow if they want to stay on Amazon, especially with drop shipping. According to their list of eligible stores, Amazon categories like books, games, electronics, office products and others are able to setup an Amazon store without prior approval. Certain categories and product types do require Amazon approval in order to sell. Fashion, jewelry, and beauty are some of the more popular categories that require this approval before being able to include them in your Amazon store. Amazon also has a list of restricted products that includes dangerous goods and things like hoverboards that you cannot sell on their platform.
Amazon Drop Shipping Strategies
As part of our Amazon drop shipping guide, we wanted to share a few strategies to help you make the most on the platform:
– Try to win the Buy Box
Getting the buy box on Amazon leads to a huge increase in sales, since the majority of shoppers will buy the first listed price. As an Amazon dropshipper, your main goal should be to win the buy box to maximize sales opportunities. In order to get the buy box, you'll need to have a high seller rating, which would be a rating of at least 95% positive. You'll also have to agree to ship products quickly, usually arriving within 14 days – but Amazon FBA allows customers to get their products much faster. Your product cost (including shipping) must be lower than most other offers available on the Amazon listing. If you have a low refund rate and fast customer response time, this can also help you win the buy box for your listings.
– Don't rely on Amazon alone
You shouldn't be dependent on sales from Amazon FBA alone. You need to create your own ecommerce store, too. By using Amazon as one of many sales channels, you'll improve your chances for new sales while minimizing some risks, but problems do happen and you could eventually lose the ability to sell on their platform. Also, if a customer comes to enjoy your brand after buying there, they'll be more likely to buy from you on another website when they notice it. Go to where your customers are, and explore different marketplaces to reach new customers.
– Maintain at least a 95% seller rating
If you have a 95% or higher seller rating, it greatly improves your odds of winning the buy box. Having a high rating is also great because it will make your products more likely to appear in searches on Amazon. Also, it's important to have a high rating because customers will be more likely to trust you as a seller if your rating is high. This gives your Amazon store a competitive advantage over brands with lower customer ratings, if you can keep it up.
– Do keyword research before you create new listings
Just like how you must optimize your website's product pages for search engines, as you are learning how to dropship on Amazon, you'll need to optimize your Amazon product pages as well to get better results. You can use tools like Egrow to find the most popular keywords for products in your category and help customers find yours easier. If you're using Amazon advertising, you will also have access to many keywords to better optimize your product pages.
– Make sure to price your products accordingly
When pricing your products for the Amazon marketplace, there are a few things to consider. One of the big considerations is the cost of Amazon fees you'll accrue for using their platform. You need to ensure that your margins are actually high enough so you can afford to pay Amazon's monthly fee and the other associated costs and still make a profit. You'll also need to ensure your prices are high enough to make a profit, but still low enough to attract sales over other offers. When you dropship with Amazon FBA or other sites like eBay, you can even often offer free or low cost shipping which allows you to stay competitive over other pricier brands.
– Offer a better discount than the competitors
By creating an Amazon coupon, or a product bundle, you will be able to encourage customers to buy from you instead of other regularly priced offerings. You could even promote your Amazon coupon to various coupon websites to help drive more traffic from people looking for sweeter deals. Remember though, that you'll need to price the coupon in a way that allows you to pay your expenses and remain profitable.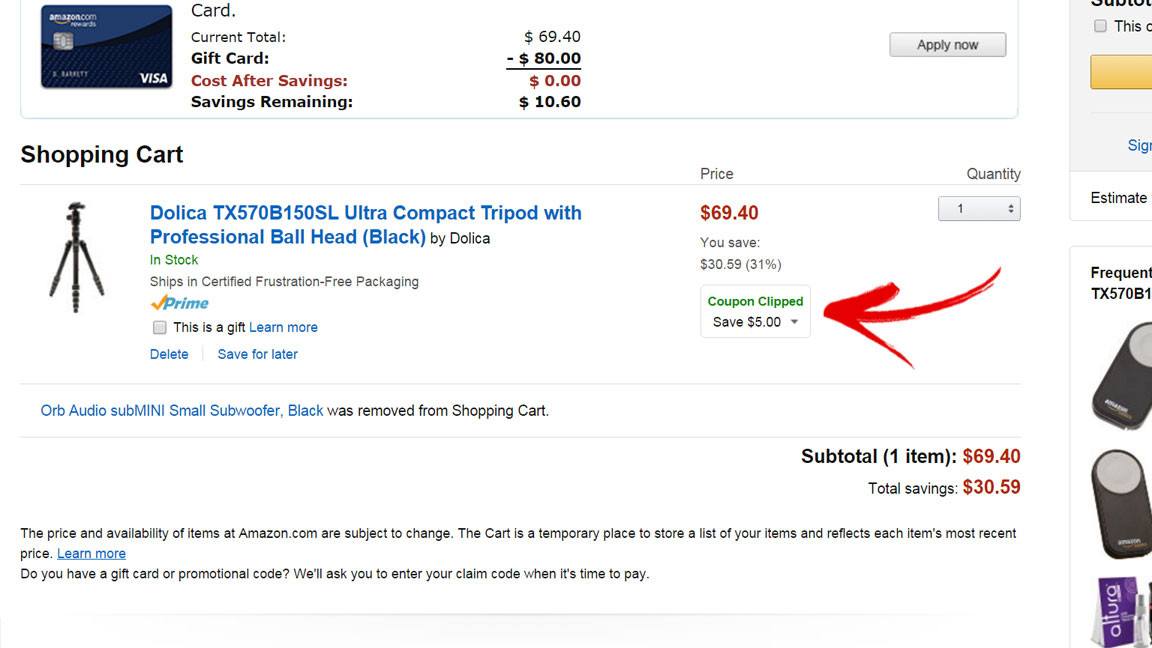 How to Dropship with Amazon?
Drop Shipping on Amazon is a widely acceptable practice, though many buyers are suspicious when it comes to reduced quality of goods and customer service. Amazon has a set of guidelines that you should keep in mind if you are planning to dropship on Amazon.
You must always:
Be responsible as a seller of your products;
Make sure to identify yourself as the seller on all your products and packing slips, or any other information along with your shipments;
Process customer returns properly for your products; and
Abide by all the other terms of your seller agreement and Amazon policies.
Examples of drop shipping that are not permitted:
Buying products from another retailer that ships directly to customers; or
Shipping orders along with a packing slip, invoice, or other information that shows a seller's name or other information that is not your own.
You can read more about drop shipping with Amazon on their website here.
Amazon Drop Shipping Tools
We wanted to include a list of tools that may be helpful as you're learning and growing your drop shipping business on Amazon.
Egrow – You can use Egrow to view search volume, keywords and keyword data about tons of products on the Amazon marketplace. We offer a Basic free plan, along with a Chrome plugin, but you may find our Pro plans much more useful for locating profitable products to dropship.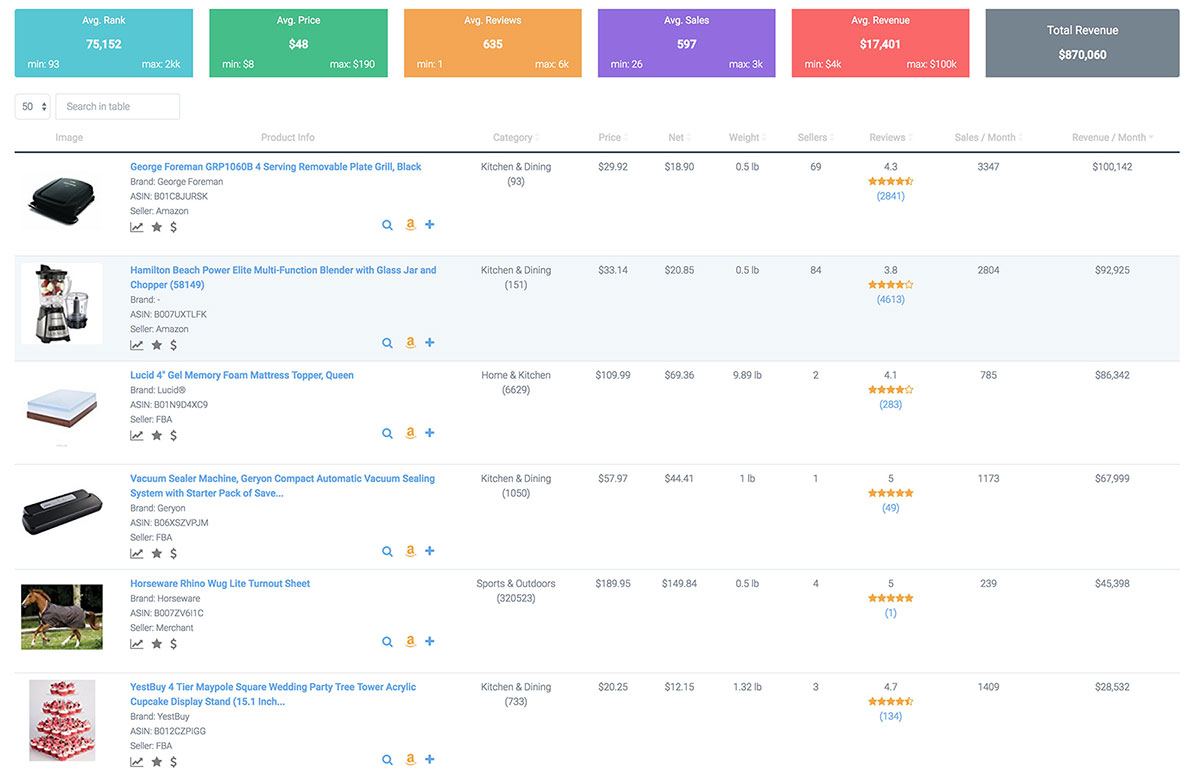 FeedCheck – FeedCheck lets you see all your seller and product reviews in one place. If you have a large selection of Amazon products on your store, this can be a great tool to see how you can improve. With easy access to your reviews, you can find ways to improve your ratings and provide better customer service. This tool can also let you to see reviews for your competitor's products. Pricing for this tool starts at $19/month.
Shopify – Since Amazon recently added Shopify as a sales channel, Shopify store owners can now carry their products on both their stores and Amazon. Shopify can also be used to keep up with your inventory across multiple sales channels. Their platform will alert you directly if you have a sale on Amazon that you need to fulfill.
Sellery – This interesting tool can help you win the buy box on Amazon with its automated repricing strategies. Sellery lets you to run experiments with pricing to help you stay competitive, while still maximizing your profits. There is a free trial for Sellery, but prices vary depending on level of services needed.
Never miss a story from Egrow blog
Your Information will never be shared with any third party.