Amazon FBA Inspection & FBA Prep Services Companies Reviewed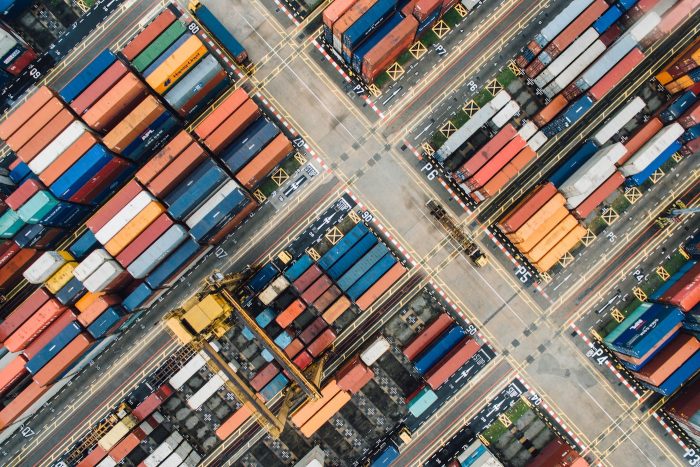 Remember, your Amazon business is only as good as the products that you sell, when using FBA. Damaged goods or packaging issues might result in a lower reputation, since buyers are likely to leave negative reviews on your products.
About 15% of all FBA orders are returned in some categories, with the biggest reason for returns being caused by damaged or faulty goods after being received by the customer. To boost your reputation to be viewed as a respected and trusted Amazon seller, you'll want to make sure that each order is compliant with seller guidelines. This means they should be packaged securely and correctly to ensure they all arrive safe and sound.
Amazon FBA inspection & FBA prep services companies are third party businesses that provide many helpful services to Amazon FBA sellers. Some of these services include:
Inspecting shipments to ensure they are compliant with Amazon seller guidelines
Packaging of Amazon product shipments
Labelling your Amazon product shipments
Amazon product sorting
Amazon product photos
Packing products into poly bags
Packing shipments with bubble wrap
Shipment forwarding services
Why Would I Need This Service?
There are many reasons that FBA sellers choose these services for FBA inspection and prep, including:
Buying from a wholesaler – Plenty of Amazon sellers today stock their products from large wholesalers like Alibaba so they can get the lowest possible prices. Even though some domestic wholesalers offer low prices, they usually don't include product preparation services. Some sellers want to make sure that their products are being supplied by themselves, without any extras. FBA prep companies inspect, package, and label products sent from a wholesaler. Then, they will prep the products so they are ready for shipment to the nearest FBA warehouse.
Inaccessible Location – Amazon FBA sellers may not be located in the same geographical region as the source of their products, so they will often not view their products before they are sent into the FBA warehouse. FBA inspection and prep companies help to ensure that your products are packaged and labeled correctly before they are finally shipped to the warehouse, which saves a lot of time and hassle for sellers.
Saving Time and Money – Amazon FBA has quite a lot of rules and regulations concerning packing, labeling, and the shipment of products. These rules must be strictly adhered to, or it will be detrimental to the seller's ability to use the Amazon selling platform. Products that are packaged or labeled incorrectly, or otherwise not compliant, are often be rejected by Amazon's FBA warehouse staff. This might mean that a package is returned to the supplier, and a seller will have to repeat the entire process, including any costs associated. By using a professional FBA prep company, it can help to guarantee that packages are be compliant and will be accepted by Amazon FBA without any issues.
Greater Success – Plenty of Amazon FBA sellers have small operations, usually from home, and they're happy to do all the work. For some, rising popularity of their products might mean that they're quickly selling a high volume, and they might be unable to complete all of the inspection, packing, and shipping process by themselves. Of course, this is a great problem to have as an FBA seller!
When choosing an FBA inspection and prep services company, it's your job to mediate between the company and your supplier to set the timing and prices. If your inspector arrives before the shipment has completed a quality control check, or is otherwise not ready, it might result in a delayed inspection, where additional time charges might be applied.
Who Are These FBA Prep Companies?
There are too many inspection and prep companies to list, but they all offer a number of different services and options. Since the number of companies is almost endless, we've chosen and reviewed 10 of the best FBA prep companies to help you make sure that your products arrive securely, on time, and are compliant with Amazon FBA guidelines.
Check out our Top 10 list below: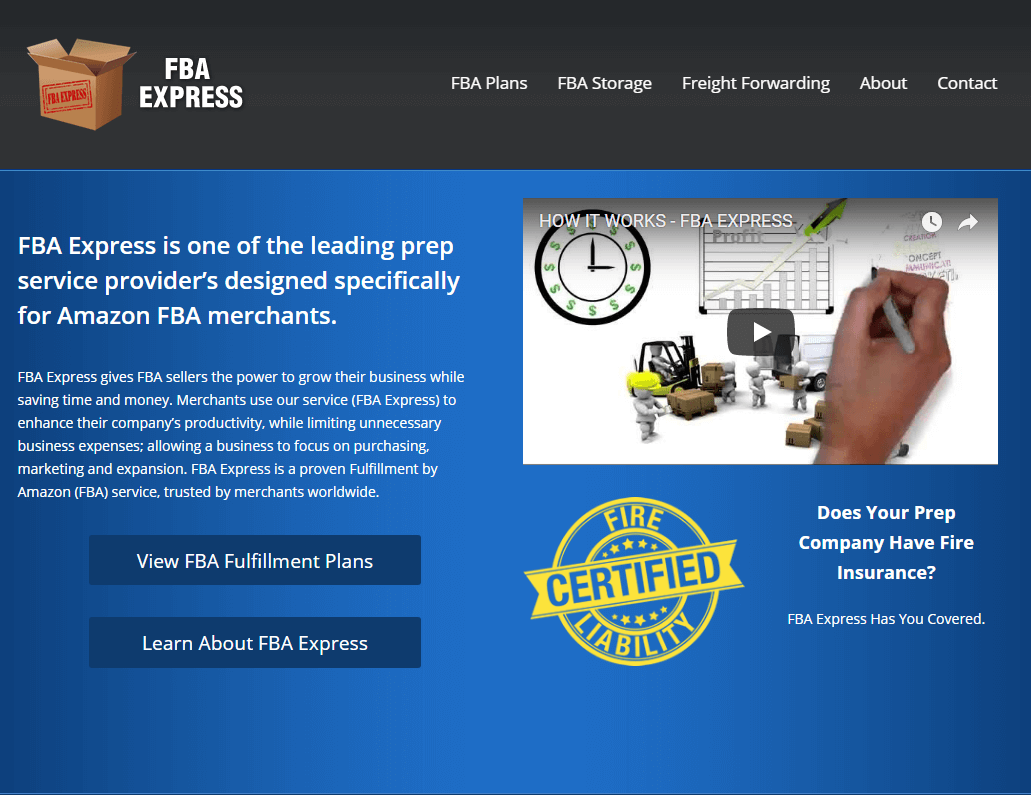 (USA) FBAExpress.com
This company is located in Hanover, Massachusetts. As their name suggests, FBA Express specializes in quick and reliable inspection and FBA prep services for products going to Amazon's many FBA warehouses in the US. FBA Express offers three packages to Amazon FBA sellers:
The Silver Package for $125
The Gold Package for $250
The Platinum Package for $375
Prices for each inspection, labeling, packaging, and other prep services are based on each item that is handled by FBA Express. Prices for each of these services is lower the higher tier plan that is selected. This company is the perfect choice for many high volume FBA sellers without a lot of time to prep the products themselves. The Platinum Package offers a great value over many other services we've come across.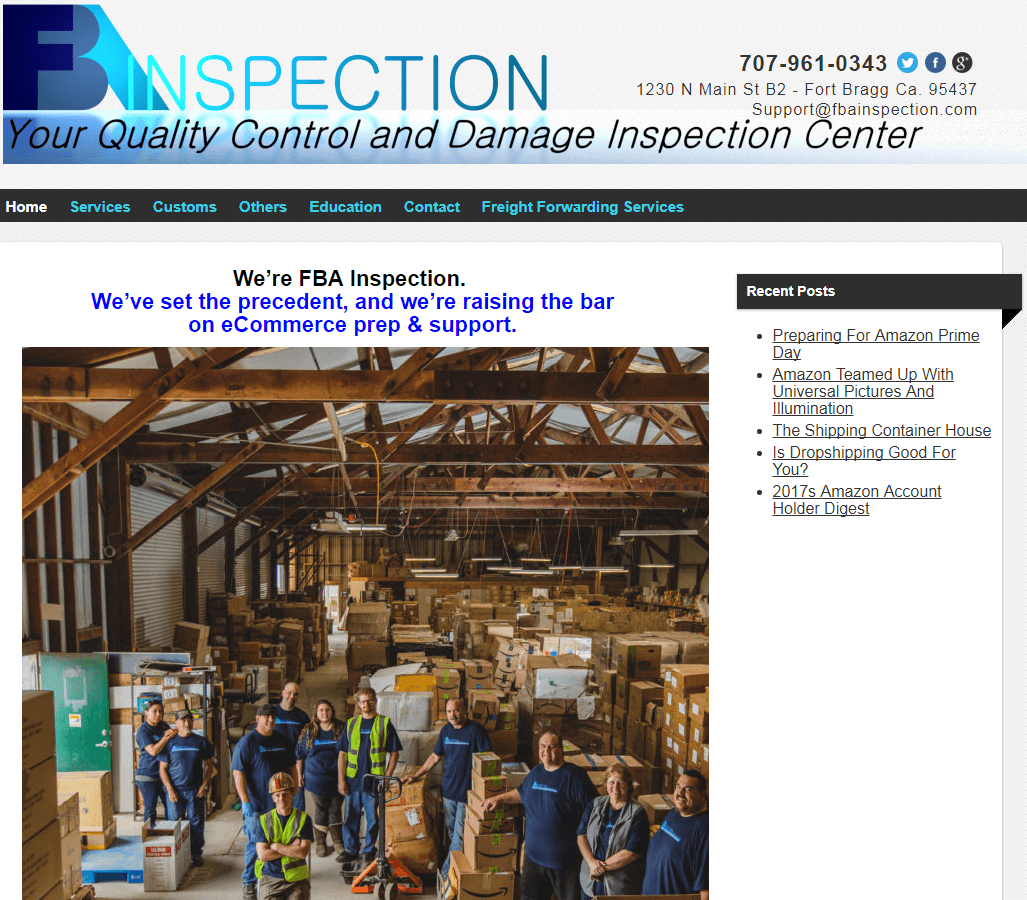 (USA) FBAInspection.com
FBA Inspection is primarily a quality control and damage inspection service center which is located in Fort Bragg, California. Their self-titled solution for e-commerce is proven by years of positive reviews. FBA Inspection offers sellers many fully-insured services, including full service product inspection, FBA fulfillment services, product photography, palletizing, shipping, as well as product label management.
FBA Inspection's pricing is only $1.25 per unit, which includes all of the processing and handling necessary, as well as any price tag removal, bubble wrapping, poly bagging, and FNSKU labelling. If you need a full-service FBA prep company that will do everything under the sun to ensure your products arrive in the perfect condition, FBA Inspection is the way to go!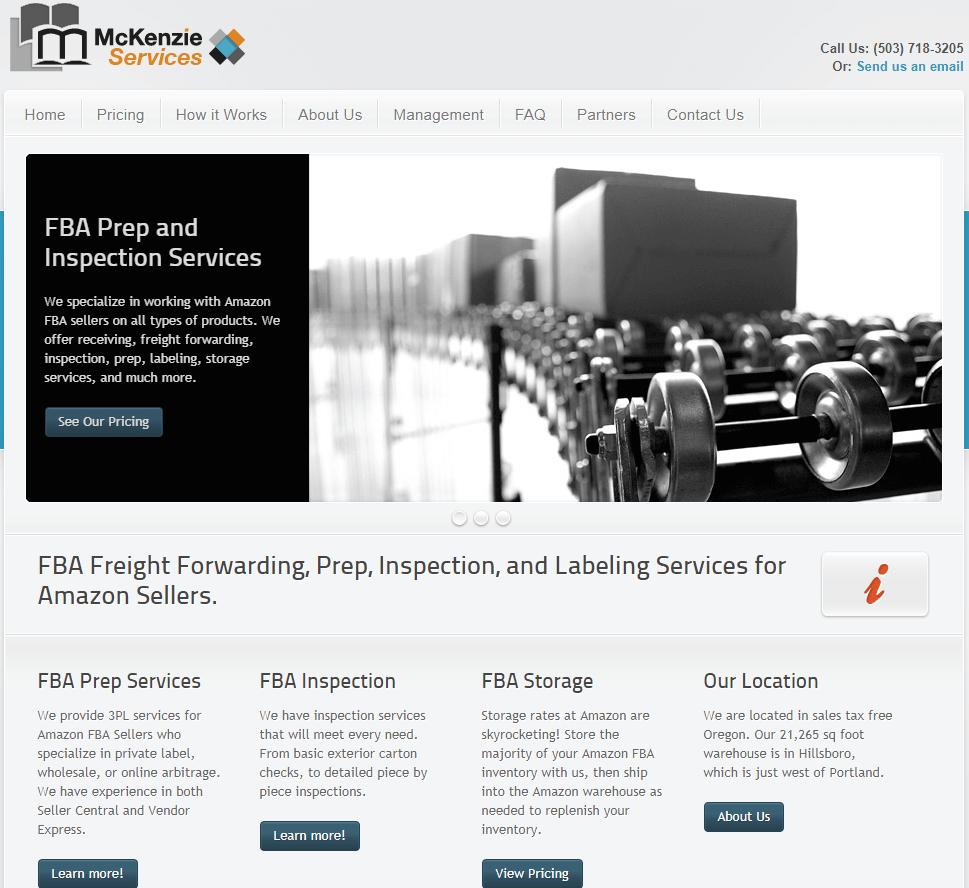 (USA) McKenzieServices.com
McKenzie Services is a full scale FBA inspection and prep service who's dedicated to the success of Amazon sellers in US markets. Based in Hillsboro, Oregon, the company prides itself on their 21,265 square feet of total warehousing space – they can handle it all!
FBA prep costs are only $1.10 per unit, with a minimum order of $40 for each shipment to FBA warehouses. Additional charges are added for some product categories, like clothing, which cost an extra $0.45 per unit. If you need an excellent FBA prep service located on the West Coast, this might be the one for your FBA business!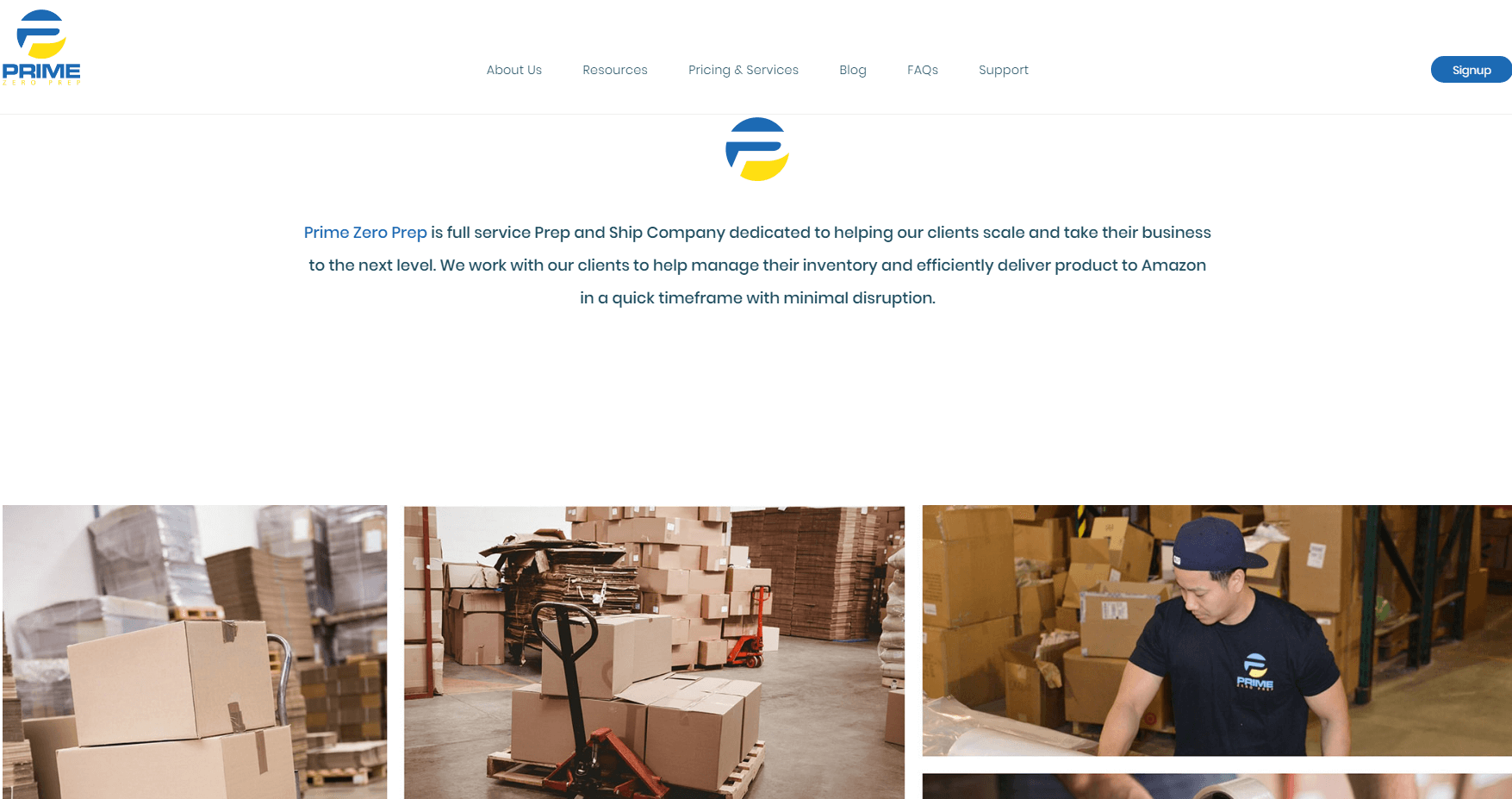 (USA) PrimeZeroPrep.com
Prime Zero Prep considers themselves an "FBA Library," and they're based in New Hampshire. They specialize in product storage and prep management services. Their website boasts that New Hampshire is a no sales tax state, which can be helpful for larger shipments of FBA products.
Pricing starts at just $1.20 per unit, with an extra $1.20 per oversized unit, or for non-regulation products. Their pricing also includes product receiving, inspection, labelling, poly bagging, sticker removal, bubble wrapping, boxes and/or pallets, with up to 14 days of storage. For many Amazon FBA sellers, this might be a dream come true! Let Prime Zero Prep handle your many FBA prep needs by checking them out today.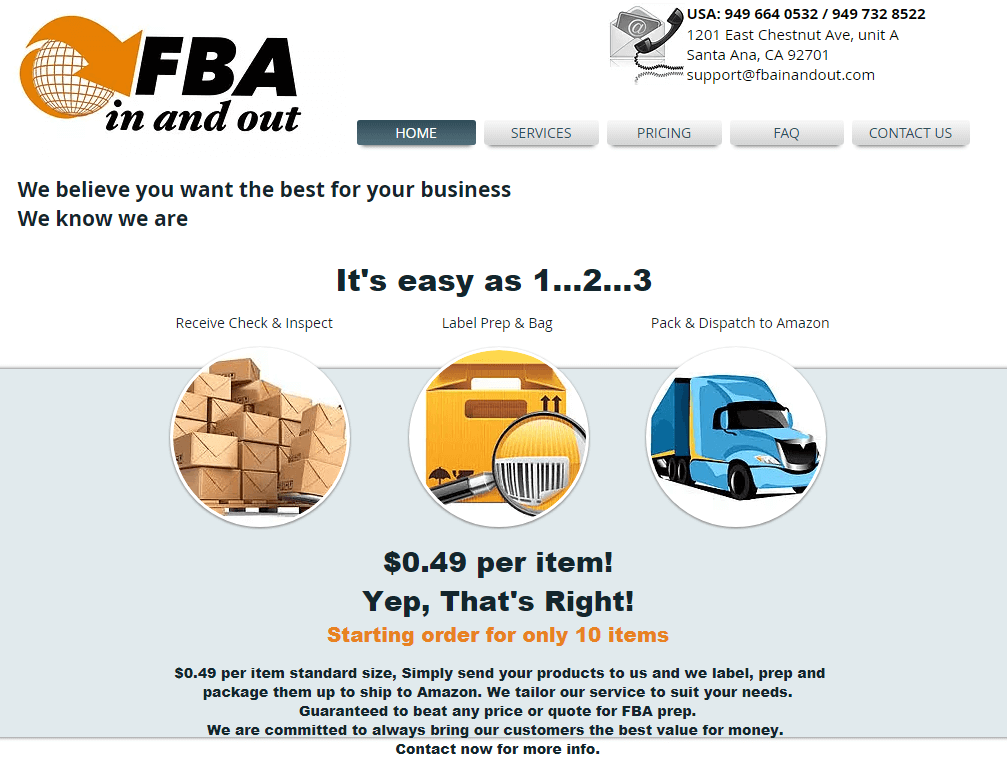 (USA) FBAInAndOut.com
FBA In And Out is a product inspection, fulfillment, and shipping company based in Santa Ana, California. Their prices start at only $0.45 per unit, and allow you to ship as little as 10 units per order, according to their website. If this seems like it's too good to be true, that's because it is!
A closer look at their pricing sheet explains that product inspection only is priced at $0.49, for a minimum of 10 items, with all other services being charged additionally on top of this. If you only require a few services to complete your FBA prep services, then this company might be able to keep costs low and margins high! Just make sure to do your calculations before sticking with any one company for all your needs.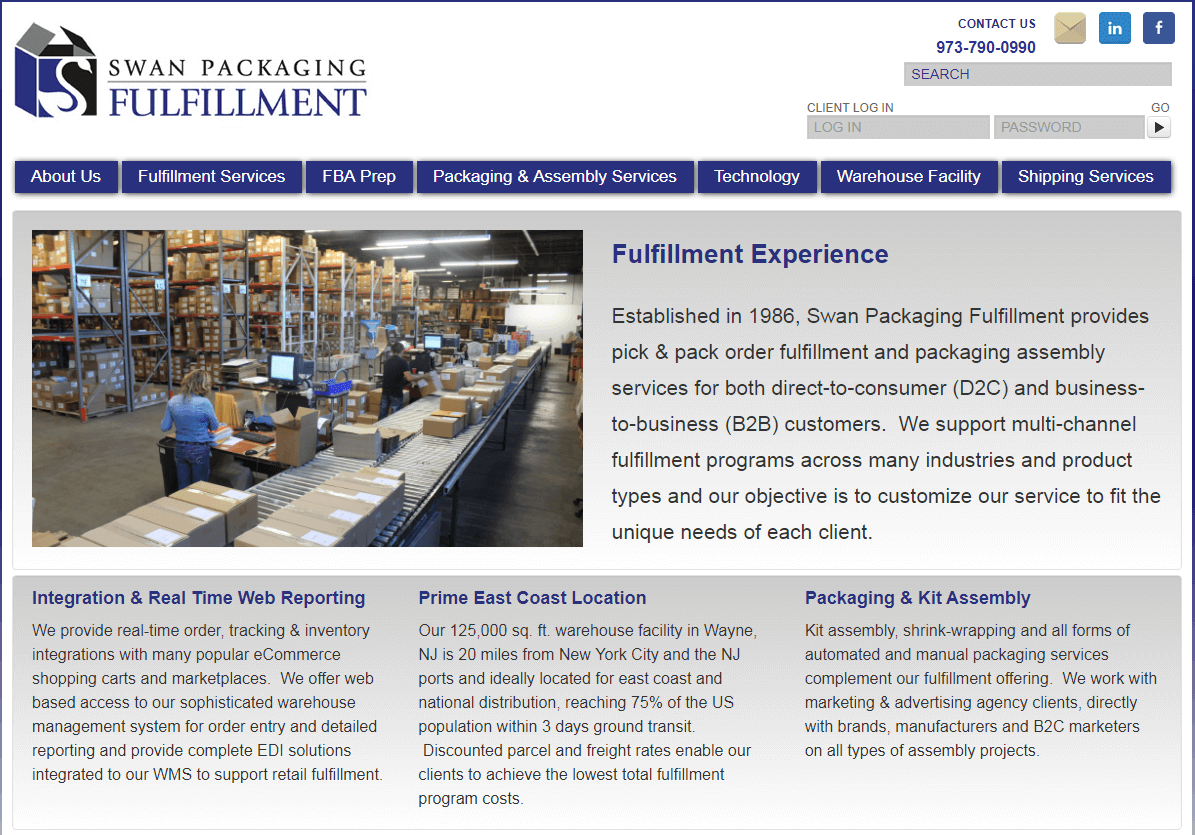 (USA) SwanPackaging.com
Swan Packaging operates a 125,000 square foot facility based in New Jersey. Their FBA prep fulfillment includes a comprehensive range of product inspection and prep services for Amazon FBA sellers. They offer real-time reporting so you can make sure your products are being processed and arrive on time to FBA warehouses!
Swan Packaging's "Prep Only" service is a perfect choice for those sellers who only sell their products via Amazon.com, and their prices are available upon request.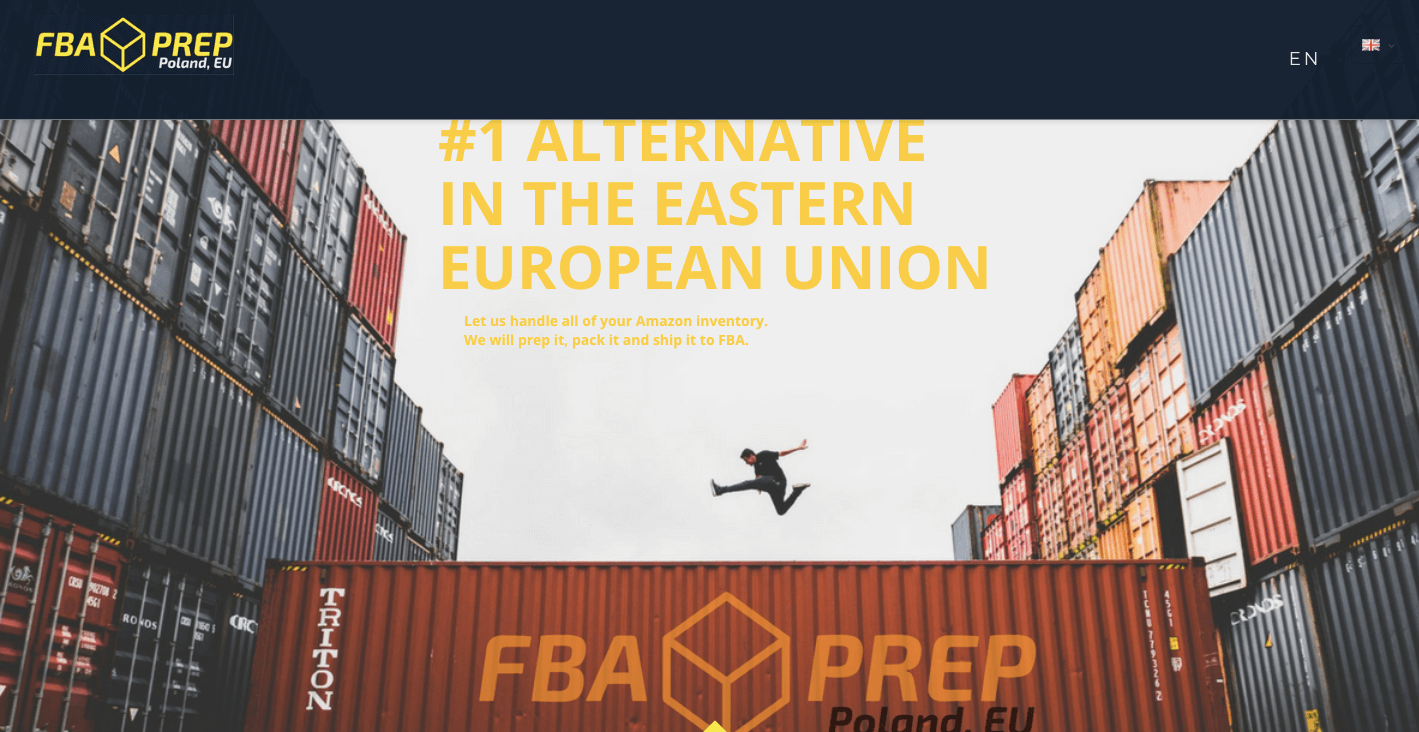 (EU) FBAPrep-Poland.eu
FBA Prep Poland, formerly known as FBAinspectioneurope.com, has been providing top quality services for European Amazon FBA sellers for many years. This company offers full FBA prep, inspection, and shipping services. They accept orders from suppliers, and then ship prepared products to all permitted countries within Europe.
They do publish pricing information on their website, but the pricing for services in each European country will differ depending on location. You'll want to examine their website to make sure you're able to get the best rates for the FBA prep services your business requires.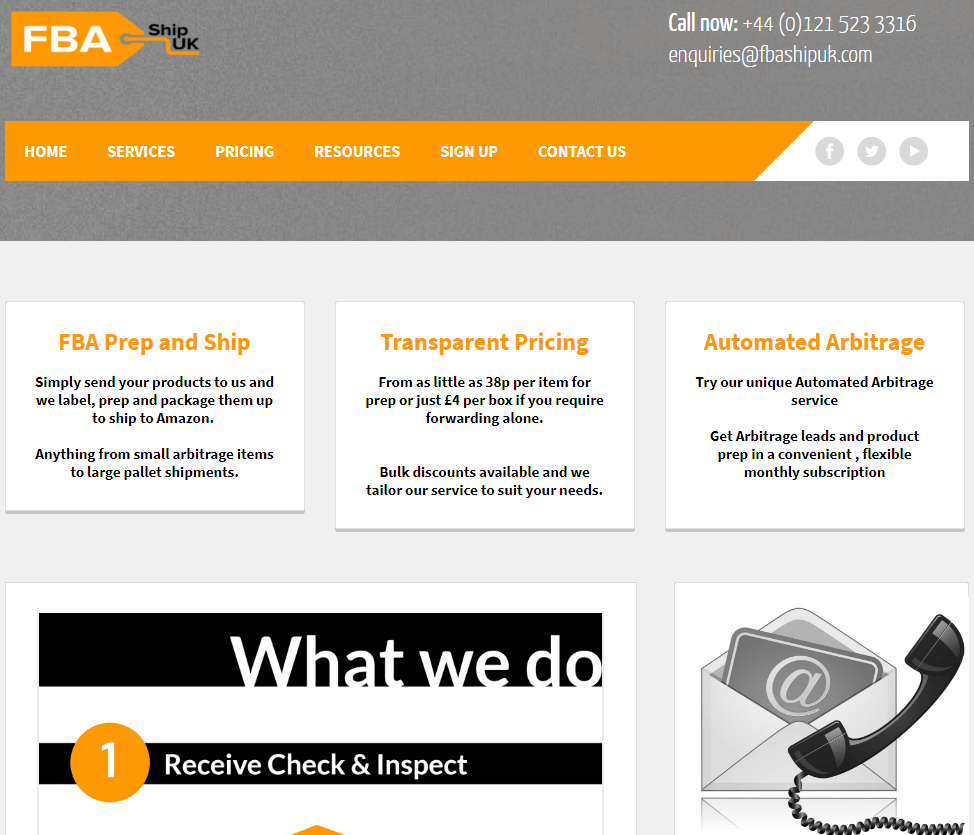 (UK) FBAShipUK.com
FBA Ship UK, based in Birmingham, UK, is an FBA prep and shipping services company that specializes in product preparation for Amazon sellers. They list their services in three different stages:
Receive, Check & Inspect
Label, Prep, & Bag
Pack & Dispatch
Their FBA arbitrage prices are charged on a monthly basis, starting at £1 per unit. This cost includes product inspection, labelling, poly bagging, adding or removing stickers, as well as bubble or shrink wrapping. If you only need one set of services for your FBA prep process, this could be a great cost saving service if you're also located in the UK.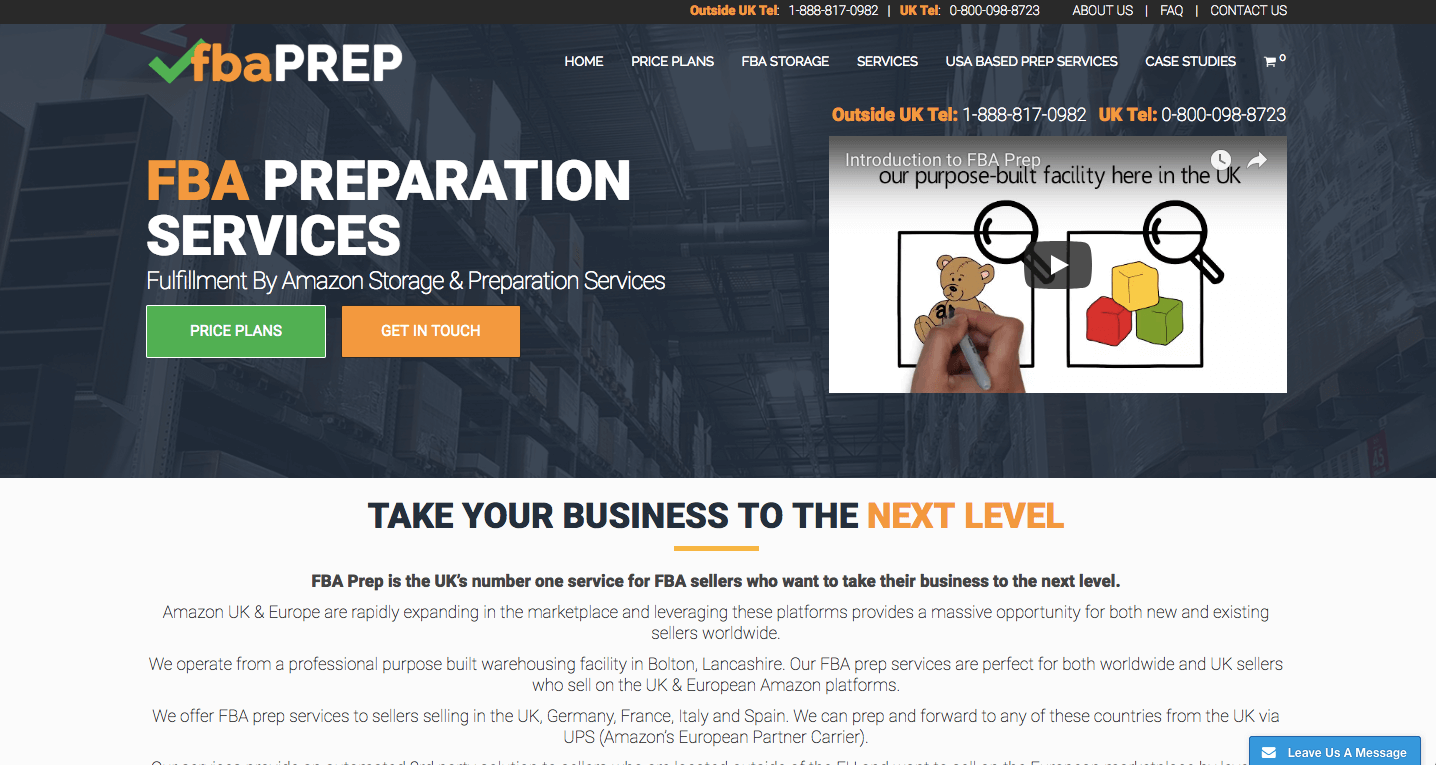 (UK) FBA-Prep.com
FBA Prep is located in the UK, but they also handle some services for USA-based FBA sellers. They are a full inspection and logistics provider for Amazon sellers. They offer many unique services, including:
Product Sourcing
Product Listing & Amazon SEO
Sea-Freight Brokerage
Private Labelling OEM Branding & Packaging Design
Amazon Account Set Up
Translation & PAN European FBA Enrollment
If you're looking for a full-fledged FBA inspection and prep services company, then look no further! Prices will vary depending on region and the number of services needed, so you'll want to take a look and see if they can offer you something that none of the others include in their packages. We highly recommend this FBA prep services company!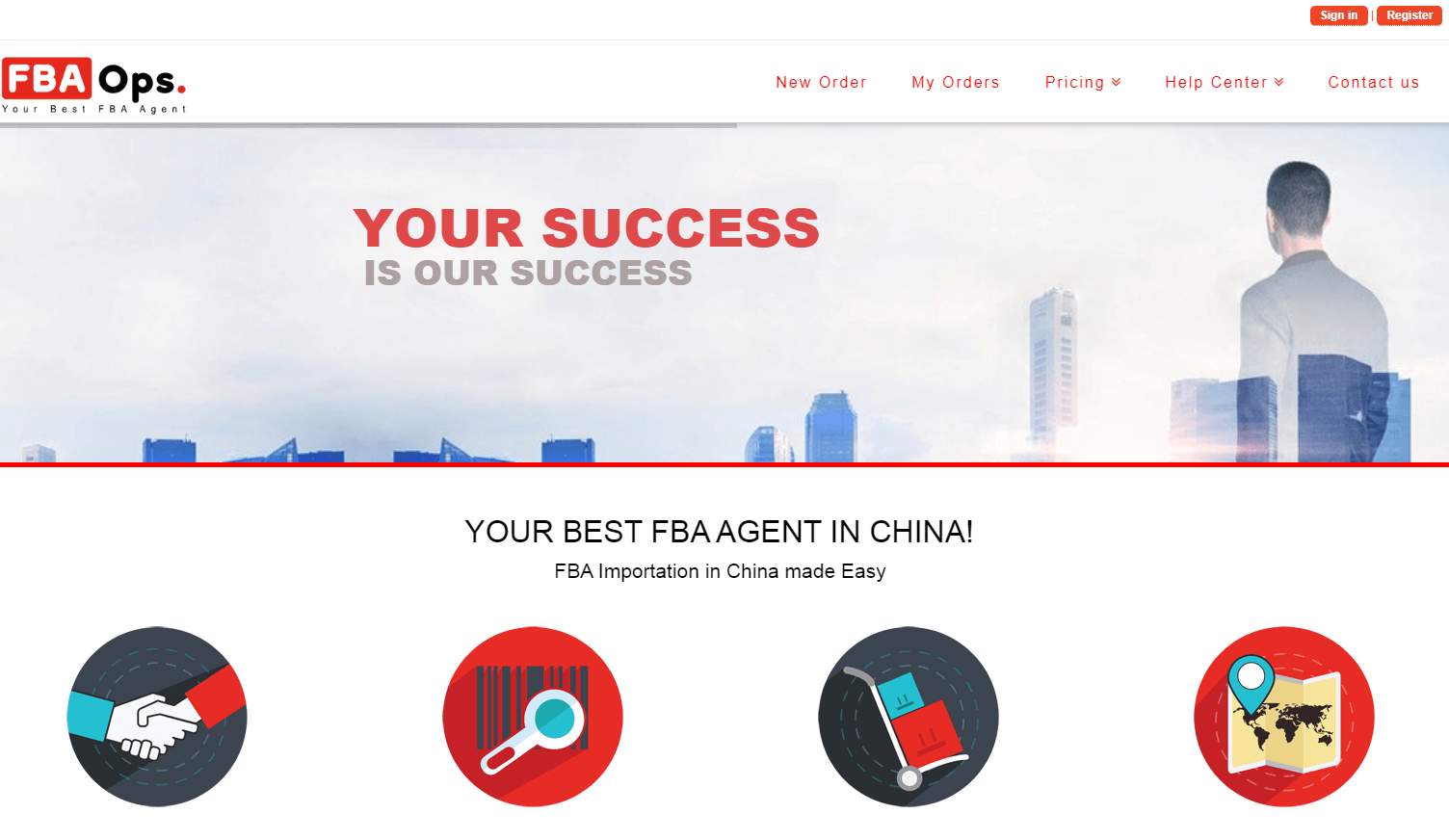 (China) FBAOps.com
FBA Ops is based in China, which can be very helpful for FBA sellers who want to take care of all their prep services before they hit the shores at the FBA warehouse. This company specializes in sourcing, procurement, and inspection services for Amazon FBA sellers, as well as other prep and shipping services.
Their basic service offering includes buying, prepping, packing, and shipping. Pricing starts from 8% of your product cost, or $199, whichever is lower. Receiving crates of products will cost 10% of the total shipping cost. If you'd like to get a shipping estimate, get one quickly online from the FBA Ops website.
Questions to Ask About Before Deciding On An FBA Prep Company
Price – You need to know if the company you choose will charge you monthly or per unit, along with any other charges that may be incurred. All reputable FBA services companies will be happy to provide you with their comprehensive list of prices to make sure the fit is right.
Storage – If your FBA prep company is storing your goods for any period of time, you'll want to ask them about the security of their warehousing facility. Make sure that they have their insurance obligations that go toward protecting your products, and guarantees if something happens to go wrong. Always read other customer reviews to make sure this is in check!
Location – The physical location of your FBA prep services company will make a big difference when it comes to overall shipping costs and the sales taxes associated. Make sure you know where they will be prepping your products, and figure out the implications of that when choosing the best FBA services company for your business.
Processing Time – Amazon customers expect the delivery of products within a certain timeframe. Ensure that you know all the processing and delivery times before signing an agreement with an FBA services company, since it might be that a great price is balanced by a slower service time.
For anybody who is serious about selling products via Amazon, you need to choose the most reliable FBA inspection and prep services company. This is essential to make sure that you're delivering the highest quality goods, and meet all of the Amazon terms of service. Happy FBA prepping, Amazon sellers!
Never miss a story from Egrow blog
Your Information will never be shared with any third party.