Amazon Keyword Tracker by Egrow – Understand your Amazon Keyword Rank at a Glance!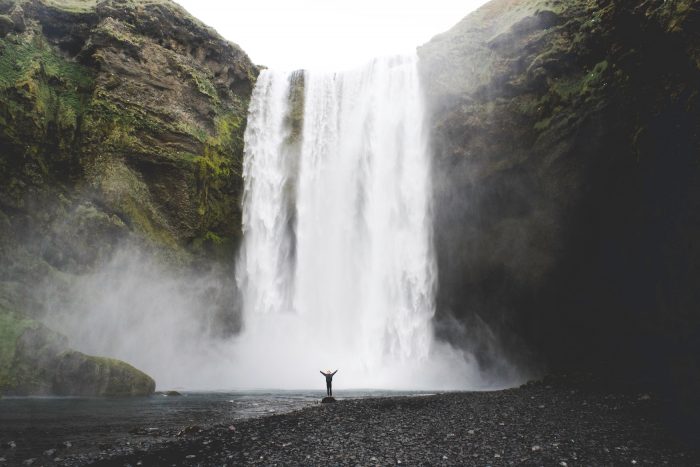 Tracking your keyword rank is absolutely essential in maximizing your profitability.  Egrow's Keyword Tracker makes it simple and quick to see your product's rank progression.  Simply input your ASIN and the keywords you want to track your rank for, and Egrow will automatically keep track of your product's rank and position for those keywords.  Today we will discuss the importance of tracking your keyword rank, how to find new keywords, and how to use the Rank Tracker!

What does keyword tracking mean?
Keyword tracking simply means where your product's listing is positioned on the Amazon page.  For example, let's say a customer searches "outdoor shade for patio" and type into the search bar on Amazon.com; Amazon puts the best selling and most relevant products first so that they have a higher chance of selling a relevant and popular product.  Every possible keyword has a different rank, which is why you will track many keywords at once. The closer your product is to the top of page one, the more sales you will get organically (not through sponsored advertisements). For this example, let's say our product is the listing framed in yellow (see below image).  For this specific keyword 'outdoor shade for patio', our product is organically ranked in position #2 which is great. You will see some sponsored listings in what looks like position 1-3, but these are not organically ranked for that keyword.  They are bidding on that position trying to increase their rank through sponsored ads.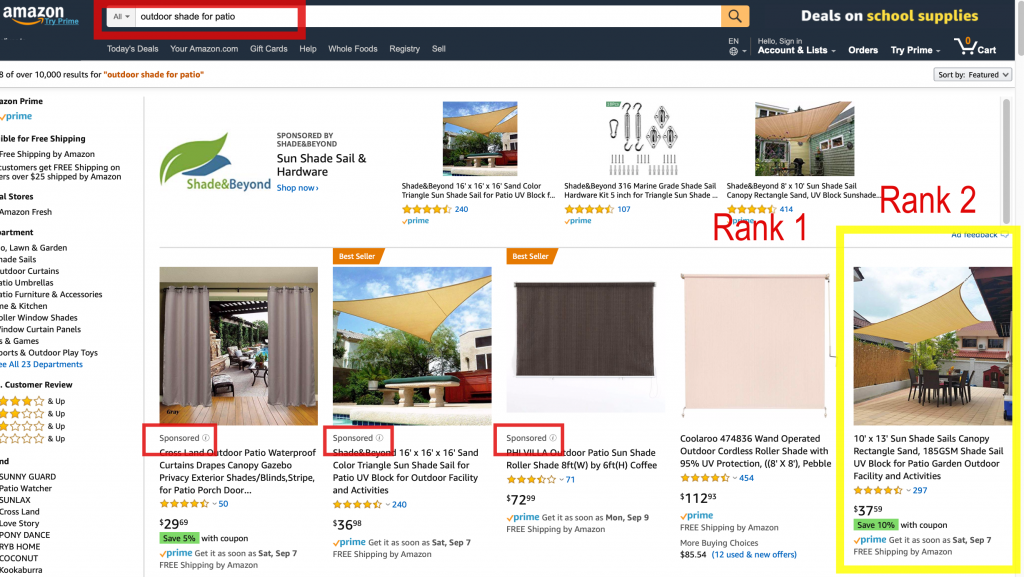 Instead of manually looking up your rank for every keyword, Egrow's Rank Tracker tells you your product's rank for you; making keyword tracking quick, easy, and efficient.  Just simply add the keyword to your tracker and let it do the work for you.

Why track keywords?
Keyword Tracking is the key to a successful Amazon business. It is important to continually track what keywords you are gaining in rank on Amazon because those are the keywords you have a higher chance to rank on, lead to organic sales. Egrow's Rank Tracker has a 'Trend' column that helps you analyze which keywords are moving up in rank and which keywords are moving down in rank.  It is especially important to keep track of your keywords that are decreasing in rank; this could be due to your sponsored ads not being shown as frequently or new competition entering the market. It is important to continually analyze why your product's rank is increasing or decreasing.
More Keywords = More Profit
If your product rank high on the top of page 1 for a wide array of keywords, you will be generating organic sales which means you spend less on advertising and increase your profits.  You want to increase rank on a wide array of keywords to help diversify your sales. You are better off having your listing ranked high on page 1 for multiple keywords so you are not constantly battling with other competitors to maintain your rank for one keyword.  Use the keyword tracker to input any potential keyword you may rank for, you can sort the tracker from low to high to focus on keywords you are ranked closest to page 1 for; this will help you decide which keywords you need to focus on increasing your rank for.


How can I increase my Keyword Rank?
Amazon tracks which search terms customers use to purchase your product.  If you are generating more sales than your competitors from a certain keyword, Amazon will bump up your product closer to page 1 as a result; this is an example of a 'rank' increase.  Remember, Amazon's main concern is selling products so they want to put the most relevant and popular products at the top so customers do not have to search pages and pages to find what they are looking for.
4 Ways to Increase Rank:
Pay Per Click: You can increase your sales by putting out Sponsored Ads for these keywords using Pay-per-Click campaigns on Seller Central.  This will put your listing on page 1 in an effort to generate additional sales for that keyword. Once Amazon recognizes the trend that you are generating more sales than other competitors, the algorithm will move your rank closer to page 1.
Lowering Price: Shoppers are always looking for a deal.  It is a common technique for new products to be priced lower to incentivize more shoppers to purchase the product.  The more customers who purchase the product will help move your rank closer to page 1 for the applicable keyword(s).
External Advertising:  Advertising your product through different social media channels is a popular way to draw more attention to your listing.  Creating Facebook ads and other social media ads helps bring traffic to your listing and increase keyword rank.
Coupons: Who doesn't love a discount? Coupons incentivize shoppers to redeem your coupon and get a deal on the product.  This is an inexpensive way to attract relevant shoppers to your product. You are only charged for a clipped coupon when the customer redeems the coupon and a very large majority of customers who clip your coupon will add the product to their cart which highly increases your chance of getting a sale.
How do I set up the Keyword Tracker?
The keyword tracker takes just minutes to set up and will make your keyword strategy so much clearer. First, you need to create a new project, click 'Add Project'.


Note, you can track multiple products to a project using this keyword tracker or create multiple projects to organize your tracking by product.

Next, input your product's ASIN you would like to track.

Next, you will be prompted to enter in keywords to track.

How do I pick which keywords to track?
I would track any keyword you put into your pay-per-click campaign and you should also use Egrow's Reverse ASIN lookup tool.  This tool pulls all of the keywords an ASIN is ranked for. You simply input your ASIN into the tool and it will shoot out a bunch of keywords your product is ranked for.  After your keyword list is loaded, export it and copy/paste any high ranking keywords into your Keyword Tracker.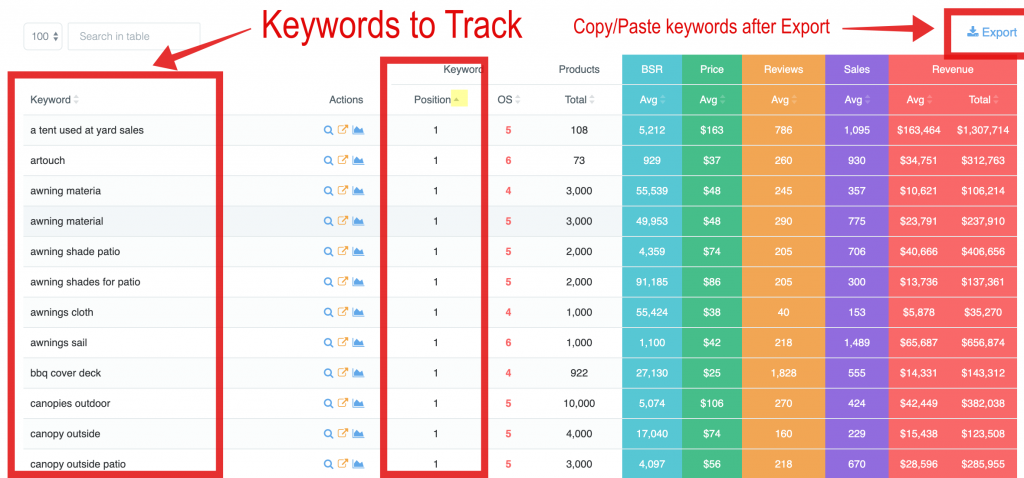 We want to watch the progression of your rank on keywords you are close to page 1 for.  I'd say any keywords where your listing is in position 60 or lower should be put on the keyword tracker.  Depending on the Amazon page, the first page for a keyword can have at least 50 listings so we want to make sure if your listing is visible on page 1, that you are tracking your rank and targeting this keyword.
How to Analyze Keyword Tracker?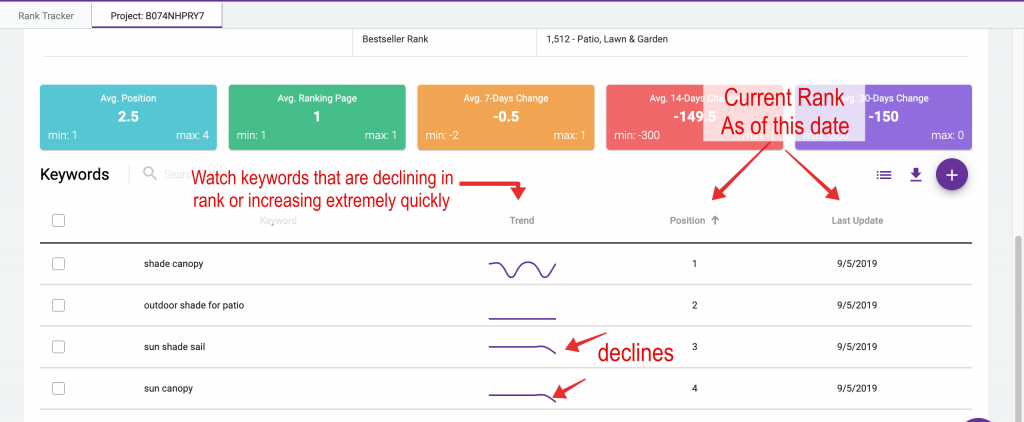 Sort the keyword position from high to low as shown above.  You want to pay the most attention to high ranking keywords because the higher your listing is for a keyword, the more organic sales you will get.  Pay attention to keywords that are declining in rank also. You will either want to increase your PPC bids for that keyword or look at the market and see if there are competitor's targeting that keyword aggressively.  Also, if a keyword is increasing in rank extremely quick, that means customers are purchasing your product using that keyword and that is a good keyword to bid aggressively on in PPC and should be watched very closely.  The keyword tracker makes it extremely easy to strategize your keyword plan with just a quick glance analysis!
Need New Keywords?
To find additional keywords to rank for, I would also recommend putting your direct competitor's ASIN into this tool so you can track the keywords they may be ranked on but you are not ranked on yet. If you have a competitive advantage over this competitor, I would highly recommend targeting keywords that your competition is ranked for.  If you have a direct competitive advantage; such as a lower price or better quality product, you will be able to steal their sales. Be sure to implement this strategy here: How to Steal your Competitor's Sales by Finding their Best Keywords.
Overall, tracking your keyword rank is a fundamental strategy to being successful at selling on Amazon.  The closer you pay attention to your rank, the more you will understand what keywords work for selling and what keywords don't.  You want to invest in PPC and advertising wisely and on the right keywords. Egrow's keyword tracker will save you time and money; and help you make strategic keyword decisions that will take your business to the next level.
Amazon Rank Tracker for Profitable FBA Sales – Egrow Tutorial Video
Never miss a story from Egrow blog
Your Information will never be shared with any third party.