How and Why to Run an Amazon Giveaway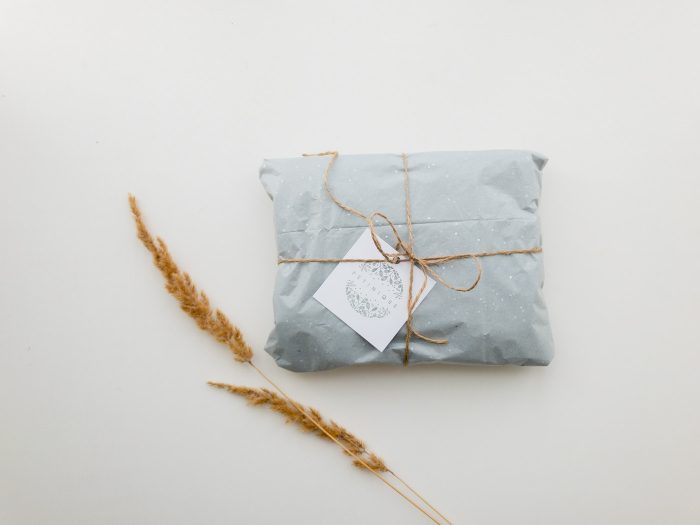 Nothing entices people to view your products like the offering free stuff in a giveaway. It's also no surprise that Amazon giveaways, drawings, sweepstakes, or other contests are some of the most popular ways for brands to attract new traffic and potential customers to their offerings. If you're trying to setup and operate a giveaway on Amazon, it could quickly turn into a logistical headache when trying to source your products, decide the winners, and also ship out prizes. Thankfully, Amazon has provided a solution to this problem for sellers by using the Amazon Giveaways service.
The Amazon Giveaways service makes the logistics of a giveaway simple, but adds a boost from the Amazon brand to any contest you want to run. For sellers seeking another way to grow their online business, by sharing your products in an Amazon Giveaway, it can open the doors to potential customers by driving traffic to your products that may never have been seen otherwise. With no fee or associated costs, choosing to use this service really makes sense as an Amazon seller.
Here are 8 quick and easy steps you can use to create your own Amazon giveaway today:
Step 1 – Sign into Amazon Seller Central, then go to the Promotions tab, under Advertising. There, you'll see the Giveaway area, like in the screenshot below. Just click on the Create button to start your new Amazon Giveaway.
Step 2 – You'll then be prompted to either search for your product, or to choose your product from a list. Select the item you want to use for the prize in your Amazon Giveaway.

Step 3 – Select your preferred contest type from 4 different options enabled by Amazon Giveaways.
Sweepstakes : This option means that your prize is awarded randomly to winners after your giveaway promotion has ended.

Random Instant Win: This is where you will select the odds of winning for your giveaway participants. For example, each participant might have a 1 in 500 chance of winning the prize. You'll want to make the odds of winning logical, so that participants who enter decide to join, as well as providing enough exposure for your products. Test this feature out several times to determine the sweet spot.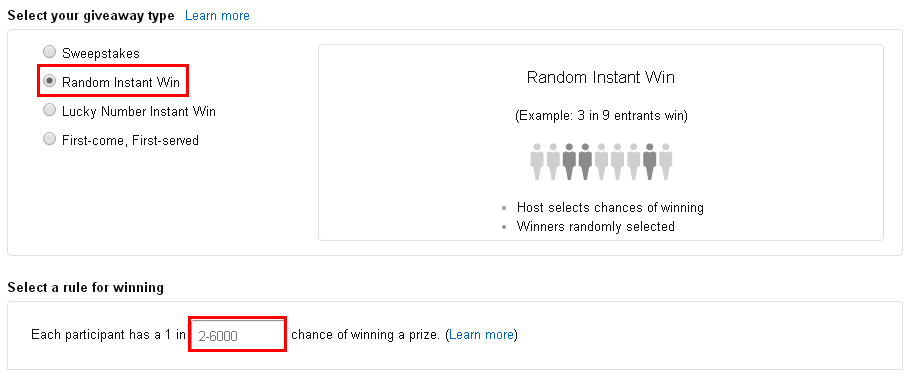 Lucky Number Instant Win: This giveaway option is where you'll select a "lucky number," or a few different numbers, depending the amount of prizes you'll be giving away. Participants will instantly win the prize if their number is chosen upon entry.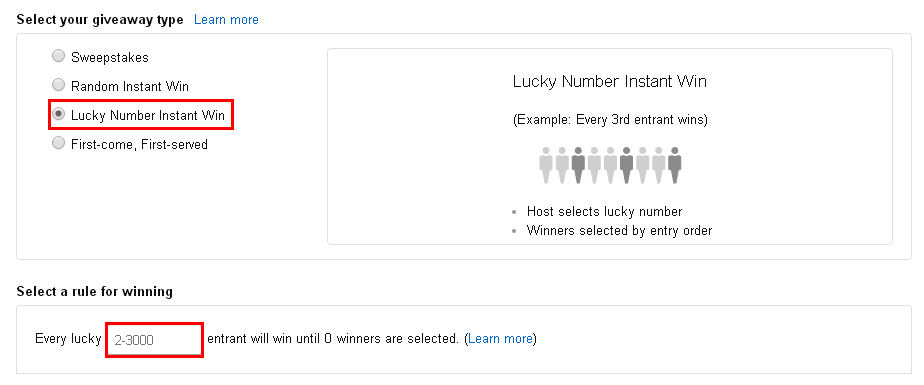 First-come, First-served: This giveaway option should be self-explanatory. We don't suggest using this type of giveaway initially, because it won't provide enough wide exposure for your products. For example, if you're giving away 5 prizes, only 5 participants will ever find out about your product.

Step 4 – Enter the number of prizes you're willing to offer in your Amazon Giveaway. This amount is up to you, and we think that 3 a the magic number to keep participants interested.

Step 5 – Increase your audience by using the the these options for your participants. The Watch a YouTube Video option can also help you grow your YouTube audience by getting participants to watch your product review videos. Getting users to Tweet a Message is also great option to gain more exposure for your products on social media. Just make sure you're providing the right hashtags for your product and/or brand in this area.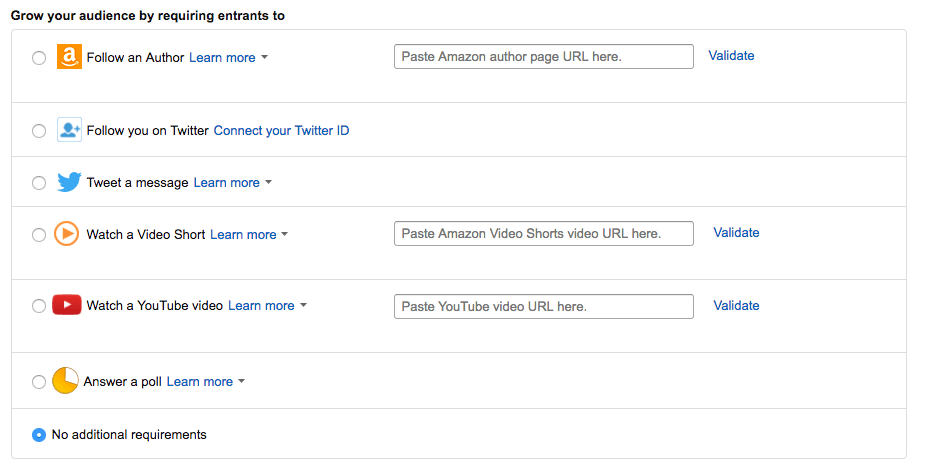 Step 6 – After you've decided the type of Amazon Giveaway you'd want to run, you'll have to choose the duration for your contest. We recommend at least 3 days, but not more than 5 days. This is because 1 or 2 days just isn't likely to enough traction, and anything longer than 5 days might get too many participants to maintain interest. You'll also want to start your Amazon Giveaway on a weekday, depending on the total duration of your contest, to get the most exposure for your product.
Pro Tip: Remember to click the checkbox for Allow Amazon to make this giveaway discoverable to other Amazon customers in order to get more viewers to check out your product.
Click the Next button after you're done.
Step 7 – This is the most important part of setting up your Amazon Giveaway. You'll have to enter all details for your product and contest as shown in the screenshot below.
Note: Depending on the type of contest, you might be prompted to enter some different details.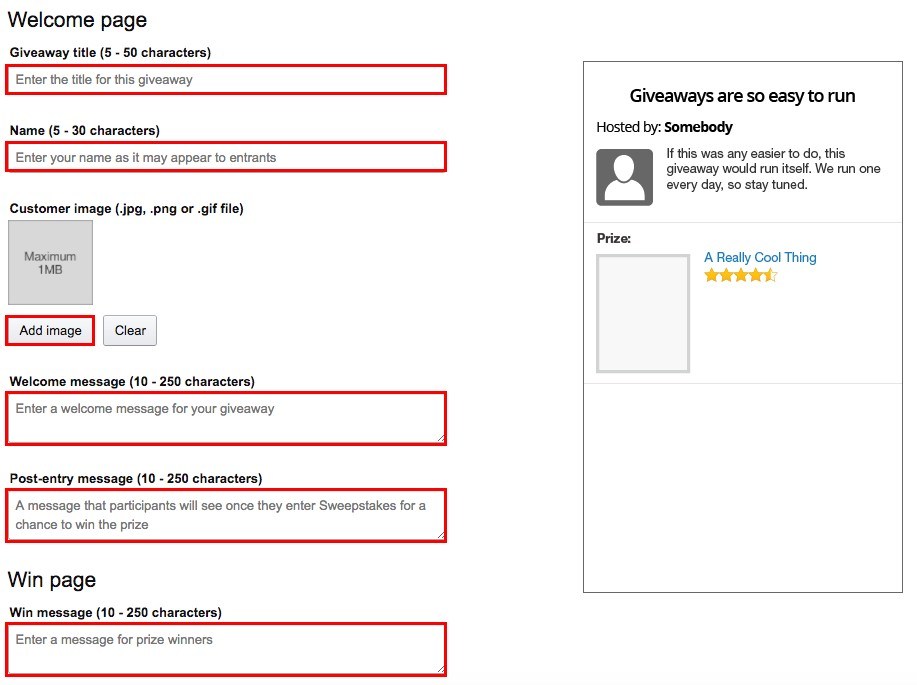 Enter Your Giveaway Details
Title – It's very important to create a simple and attention-grabbing title, such as: "Win a FREE bottle of shampoo for dogs!"
Name – Enter your Amazon seller business name here.
Image – Select an image that represents your product. We suggest using the main image for your product to maintain consistency.
Welcome message – This is where your great copywriting skills will come in handy. Begin with a thought provoking question or statement, like: "Want to say goodbye to those wrinkles under your eyes? We have the perfect solution! Enter to Win Below". More creativity in this case cannot hurt, but make sure it's relevant to your product!
Post-entry message – Contest participants only see this message after they enter your giveaway. Thank them for entering, and consider providing a coupon code to promote your product and perhaps gain a new customer. For example, "Thanks for entering our giveaway! Winners are announced as soon as the giveaway ends, so stay tuned! Until then, use this COUPON CODE to get 20% off our product.". Use your copywriting skills to push participants to check out your products and hopefully make a purchase.
Win message – Enter the message to the giveaway winner here. Random Instant Win and Lucky Number Win giveaways also allow you to enter a message to those who don't win, which is perfect for generating new sales. You might say, for example: "Sorry you didn't win our giveaway this time. You can still win by taking advantage of our COUPON CODE to get 20% off of our product."
Step 8 – After you've included all the necessary details for your giveaway, you can then proceed to checkout to pay for the prizes that will be given away during the promotion.
Pro Tip: Make sure that the Remove Share Buttons checkbox is not selected. The goal is to boost sales and profits, so you'll want to get as many viewers on your giveaway as possible.

You'll then receive an email from Amazon letting you know that your giveaway is live after the payment has been received. Then, it's time to share it to your audience to increase participants and overall engagement.
Make sure to track your sales metrics during your giveaway before and after running the promotion. That way, you'll know exactly which type of giveaways work best for your products.
Thanks for reading our guide, and best of luck with setting up your own Amazon Giveaway!
Never miss a story from Egrow blog
Your Information will never be shared with any third party.