How much money do you actually need to start your Amazon FBA Business?!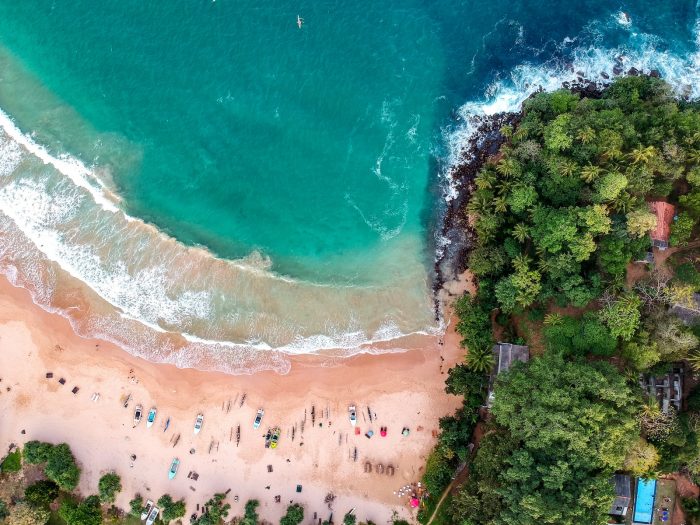 Fulfillment by Amazon has become such a popular business model within the last few years due to many reasons.  Amazon is the largest e-commerce market in the world and brings over 20.6 million shoppers a day, which is absolutely crazy.   FBA is a passive source of income that requires very little legwork being that all shipping, packing, and returns are handled by Amazon for a small fee.  Also, Amazon is extremely appealing to first time entrepreneurs because you can enter the market with a very small investment. On average, new FBA sellers spend $2,000-$4,000 launching a new product; which in comparison to traditional business is very little.  Today we will discuss how much money you need for your first product, what additional costs you could incur, and additional costs that may appear as your business grows.
Small Investments, Big Gains
Amazon FBA is one of the few ways to start a business with very little capital. Most new sellers invest $2,000 to $4,000 in their first product.  You can spend more or less depending on how quickly you want your business to grow but in general, it's a very low investment amount. The best thing about FBA is that the majority of costs are incurred at the time the product is bought by a customer.  So initially you are expected to pay for your product and any customization or packaging. You are also expected to pay for shipping your product to the Amazon warehouse. And that is it for initial costs, crazy right! The rest of your costs are at the time of purchase; so when a customer purchases your product is when the FBA fees and storage costs are deducted from your total earnings.  This cost structure makes it even easier for new sellers to join the Amazon market because there is not a huge barrier to enter the market.
So what costs do I need to account for?
Initial Costs:

Product Manufacturing: The cost of your product, any customization, and labour. This cost will be the bulk of your initial cost.
Packaging/Additional Customization: Packaging, adding product inserts, adding logos, barcodes; these are all costs that customize your product and add value to your product.
Inspection:  A one-time fee of inspecting the product for any malfunctions or defective products.  This will help lower chances of negative reviews due to defects and ensure that you are getting the product quality you agreed upon.
Shipping to Amazon Warehouse: Hire a freight forwarder or have your manufacture ship your product to Amazon warehouses.  The cost differs based on the transportation method. Shipping your product by air is a more expensive option but much quicker; while sea shipping is much cheaper but takes longer.
Product Photography:  Don't skip this whatever you do! Photos make or break the success of your business and this if a very affordable way for you to increase sales.  Simply ship a unit to the photographer and they will send back photographs. You can find a great photographer through Fiverr or ask your manufacturer if they know of any product photographers in their area.
$40 Amazon Seller Membership: Monthly fee you pay to Amazon to list your product on the website.
Like I mentioned earlier, initially, you only need to pay for your product, your monthly Amazon Seller membership, and getting your product to Amazon's warehouses.  This is going to be the largest investment in your FBA business. Your product costs can be negotiated with your supplier but a general rule is that you are required to pay 30% of the total cost in order for the manufacturer to start production of your product, then you pay the final 70% at the time of completion.  I recommend that before you pay the final 70%, you hire an inspector and make sure your product is up to par with what you actually ordered. An inspection costs roughly $100-$200 and can be completed in just a few hours. This will help minimize risk and make sure your product is up to par with what you agreed upon.  After you've completed inspection and payment, next you want to hire a freight forwarder or have your supplier put together a shipping plan for you. These are all of the initial costs you will need to account for at the beginning of your FBA product launch.
Estimate Costs with Egrow
It's extremely important to make sure you are aware of all costs before agreeing to a product.  Egrow is your one-stop-shop for figuring out costs and making sure your product will be profitable. By using Egrow's Chrome Extension, you can get a quick overview of costs and profit margin in seconds.  With the Live Product Scanner, you can see how much your competitors pay in FBA fees and how much their margins will be after. Of course, you are going to need to reach out to suppliers and negotiate on product pricing to see if the profit margins are high enough, but this is the best way to account for your costs and make sure this product is profitable for you.
For today's example I chose to research a 2020 planner to see how much it would cost me:


To pull all of the data you need, quickly install Egrow's Free Chrome Extension to analyze all of the data.  If you would like to see a Test Study between Egrow, Helium10, and Jungle Scout's data accuracy; click here!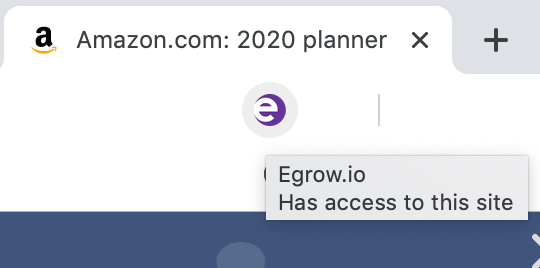 Once you've clicked into your Amazon Chrome extension, all of the listings on page 1 of that Amazon search should populate.  You will see a number of metrics that will help you decide if a product will be profitable.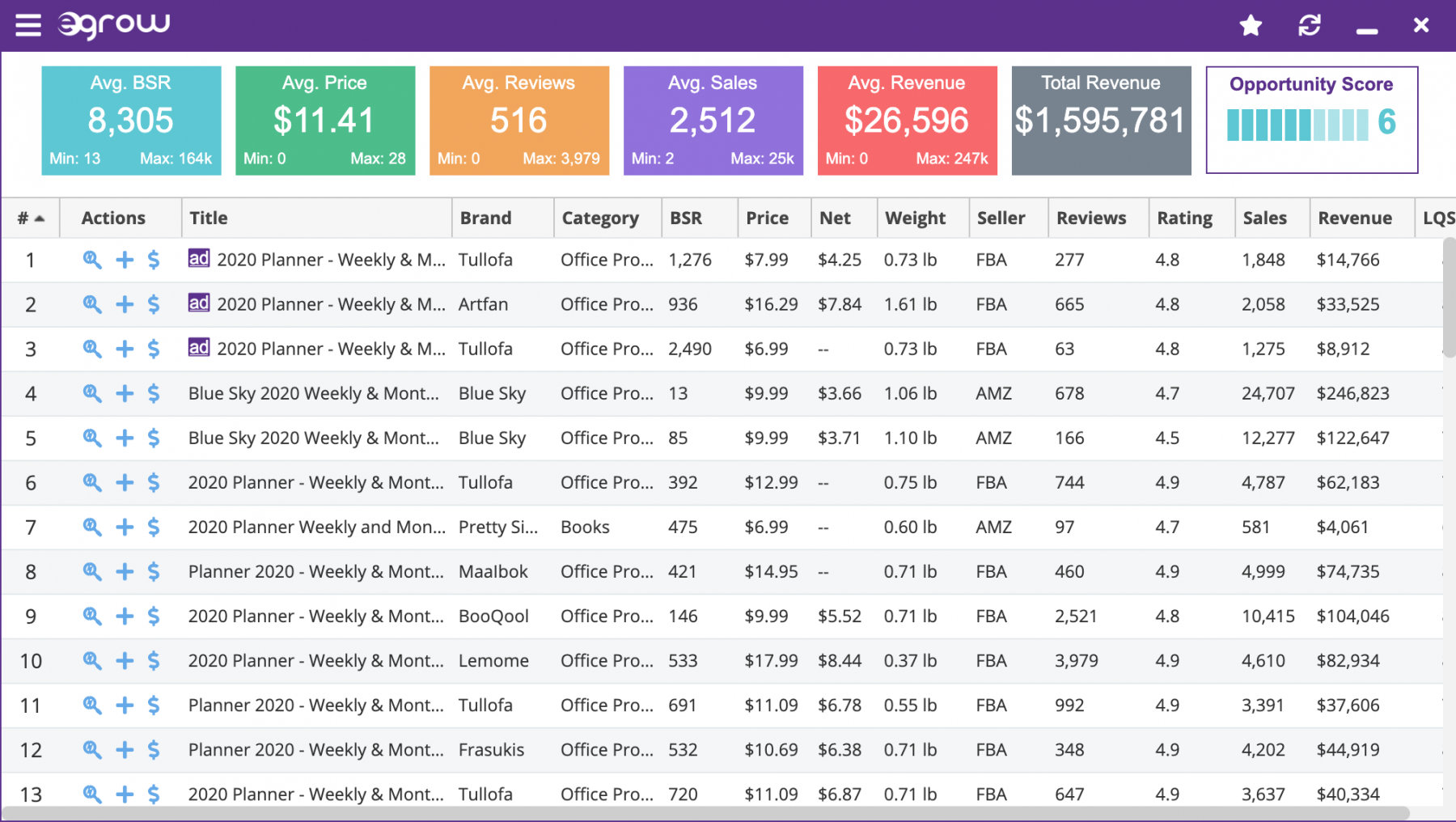 This page gives you SO much information about how current sellers are doing with this specific product.  Pay attention to the NET margin column. This number is Price minus FBA fees. Remember, you still need to account for your initial costs in this (which was discussed earlier). Egrow makes it even easier for you to see if you can make a substantial profit by providing a profitability calculator.  You can find the Profit Calculator under the 'Actions' column.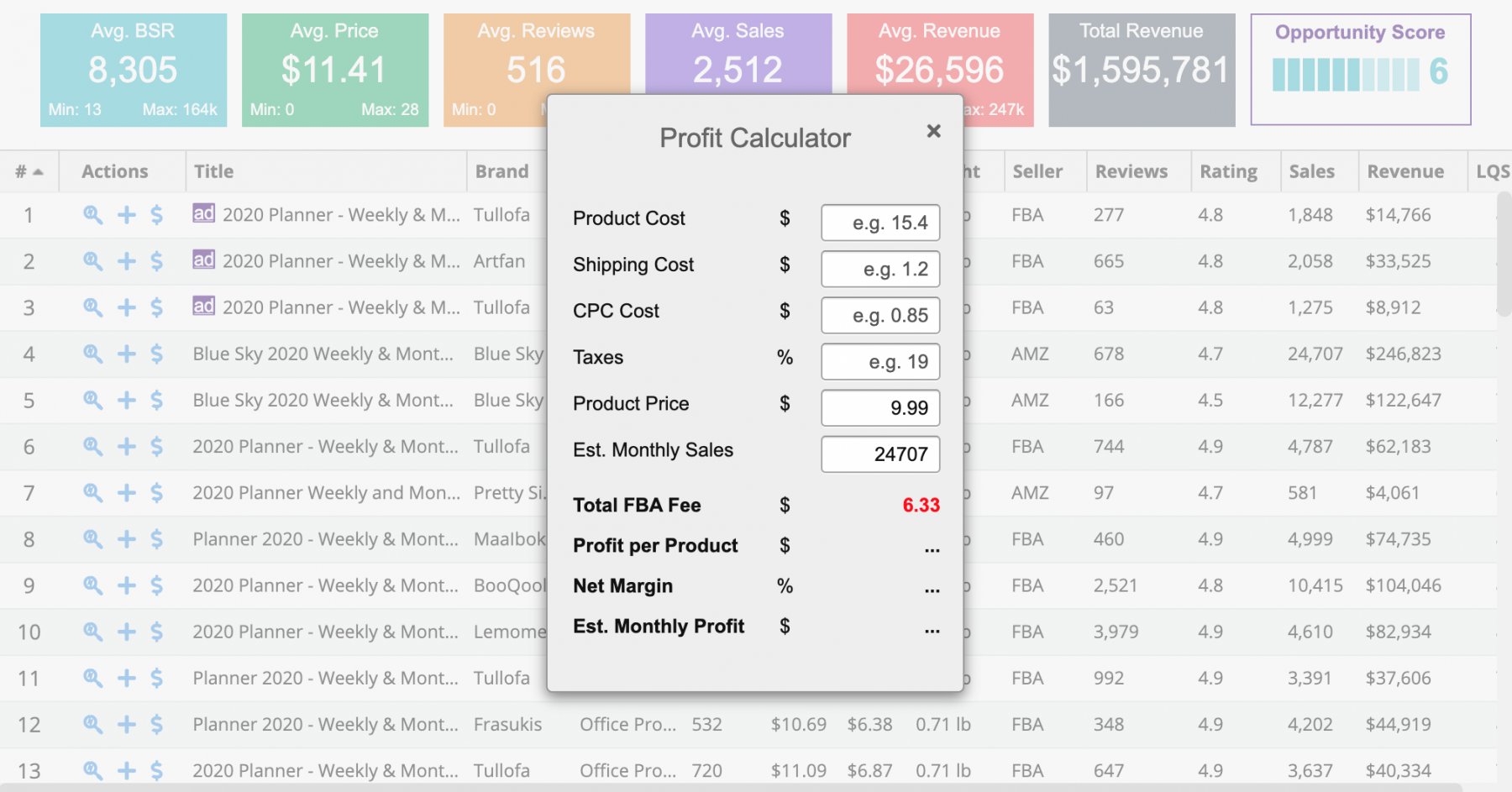 Egrow's profit calculator quickly shows you if a product will be profitable or not.  Let's discuss how to find the different costs in the calculator.
Product Cost: This cost will be negotiated with your supplier.  You have to work with your supplier to make sure you are comfortable with what you are paying and also that you are making money.  Plugin a few different numbers into the profit margin to see what price is negotiable and gives you the best profit margin; this will help you know if this is a product that makes sense to sell or if you need to find a different product or supplier.
Shipping Cost: This cost is dependent on how quickly you want to get your product to Amazon.  I personally recommend sea shipping with all new products. There is no time constraint that forces you to get your product on the market quicker, other than excitement.  So save some extra money on shipping, increase your profit margin, and spend some extra time learning new FBA strategies by doing sea shipping. You can hire a third party freight forwarder or have your supplier find a shipping company for you; either way, shop around for current shipping prices so you know what the going rate of shipping is for your product, weight, and size. Once you have agreed to a shipping price; divide the total cost by the number of units and input this number into the profit calculator so it calculates per unit cost of shipping.
CPC Cost: This is something that isn't often accounted for in new sellers profit margin but can MAKE or BREAK your profits.  If you aren't researching cost per click for sponsored advertising before you decide on a product you are really putting yourself in a risky position.  Depending on the market, the CPC can range from $0.20/click to $5.00+/click… absolutely crazy but I've seen it! Imagine if you had a $5.00 profit margin just to find out the average CPC in your market was close to $5.00, there goes your profit margin.  It's super important to research CPC. Simply go to Seller Central, create a fake campaign, import the highest volume keywords for your market, and see what the suggested bid price is. This will give you a good idea if it's affordable for you to bid on keywords in that specific market.  I try to stay away from products that have CPC bids of over $2.00.
Taxes: Taxes will be included in your initial invoice so you will want to just divide this number by how many units you are ordering to get the cost per unit amount.
All the costs mentioned above are things you will need to take into consideration when trying to figure out if a product will be profitable or not.  The profitability calculator quickly plugs in all of the numbers to figure out if your product will be profitable.
Amazon-Related Fees/Costs
Now that we've discussed our initial costs, next we have to talk about the costs that Amazon takes out for housing your product, shipping your product, and packing it up.  Compared to traditional shipping and warehouses, Amazon's fees are very affordable and make it easy to enter into the market because these costs are incurred at the time the product is purchased by a shopper.  So you are not paying FBA fees upfront, which makes it an affordable option for you. Below is a list of Amazon FBA fees you need to be aware:
Referral Fees: This is a fee you pay as you sell your product. This fee is determined by what category your product is in. This fee usually ranges 8-15%.  So if you sell your product for $20 and the referral fee is 15%, you will be paying $3 fee. Think of this fee as a fee for giving your product exposure on the biggest e-commerce website in the world.
Storage Fees: Amazon houses millions of products for sellers so space isn't free.  Storage fees are charged monthly and if your product sits in storage too long (1 year or longer) the storage fee increases.  Storage fees change depending on the size of the product, so if you are looking at an oversized product; please be aware of the costs.
FBA Pick/Pack Fees: This fee is for Amazon employees grabbing your product off of the shelf, packing it, and shipping it out.  This fee is determined by the size and weight of the product, so make sure you are aware of your dimensions prior to launching a new product.
Overall it seems like the fees are very expensive; however, if you were to take into consideration the cost associated with traditional mail and shipping, you are actually saving a lot of money.  To ship a small package (under 1lb) across the US, it costs roughly $15 with traditional shipping. So having a hands-off business that requires no daily operations from you is an amazing way to make passive income daily.

Additional Costs
So we've talked about the Amazon fees and the initial product costs, what else is there?  Well, these are optional costs but could help your company build exposure and increase sales. I would recommend doing some of these things to increase visibility, exposure, and overall make your business look more legitimate.
Register Business as an LLC:  This will limit the risk of your business and gives you tax options.  Costs differ based on the state but are easy to set up and takes a few months to be registered.
External Advertising: Advertising through Facebook or Instagram is a great way to increase the visibility of your product and draw new traffic to your listing.  Cost is variable depending on how much you would like to spend and how often you would like to run ads.
Software: I highly recommend investing in software to maximize the success of your Amazon business.  You want to base your decisions and strategy off of real data. Egrow's data in mined directly from Amazon data and can give you real-time data about your product; the best part is, Egrow is very affordable and offers all of the same tools as more expensive FBA software. The keyword research tool is essential in making sure you are picking the right keywords to bid on so you aren't flushing money down the toilet and you are getting your product to page 1 for high volume keywords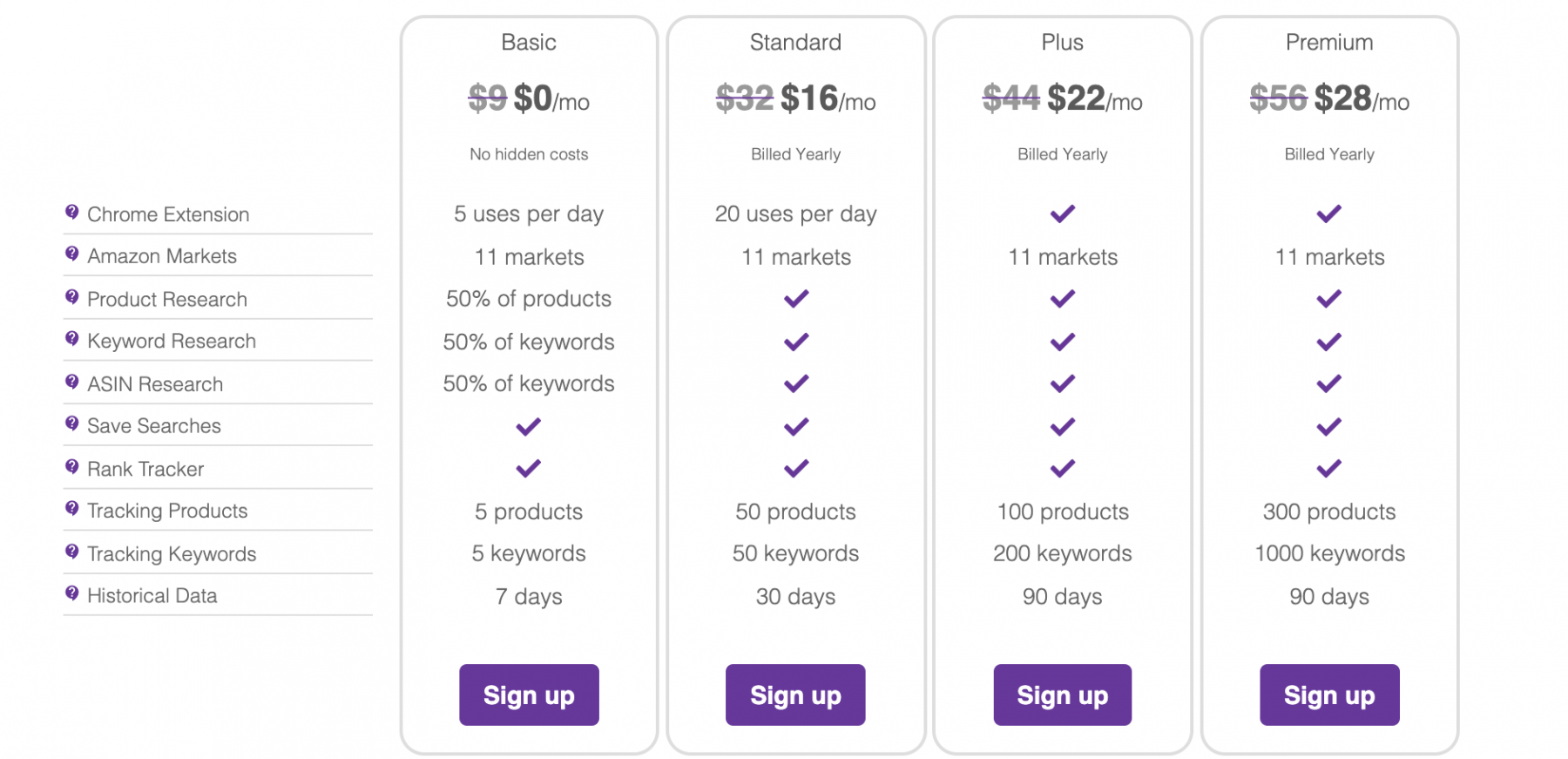 Website:  This is not a cost you need to worry about when you start your business, but as your business grows; it's imperative that you minimize risk by having a separate channel to sell your product through.  Amazon comes out with new regulations and rules regularly and if for some reason your product was removed from Amazon, it would be a great backup plan to have a website live for your product. Websites also help legitimize your business and provide additional resources and information about your product that your Amazon listing might not have room for. I would highly recommend investing in a website for your business if you want to take your product to the next level.
Overall, FBA costs can be as much or as little as you can afford. You can start small and test the product to see if it's worth investing more in, or you can invest more money initially and experience quicker growth.  If you are tight on money, I would recommend only investing a portion of your savings into your first product. The first product you launch is going to be a learning experience and it takes time to learn and become better with this business. You can start small and make improvements to your product or listing as you continue to grow, and this will allow you to start the business in a way you can afford to. One final reminder, do not cut corners when it comes to photography, inspections, or software.  These will make or break the success of your business and are very affordable ways for you to increase sales. At the end of the day, minimizing costs, paying attention to detail, and making a great product will lead to a very successful FBA business that can grow even out of a very small investment.
Never miss a story from Egrow blog
Your Information will never be shared with any third party.