How to Best Utilize Egrow to Discover Profitable Products for Your Amazon Business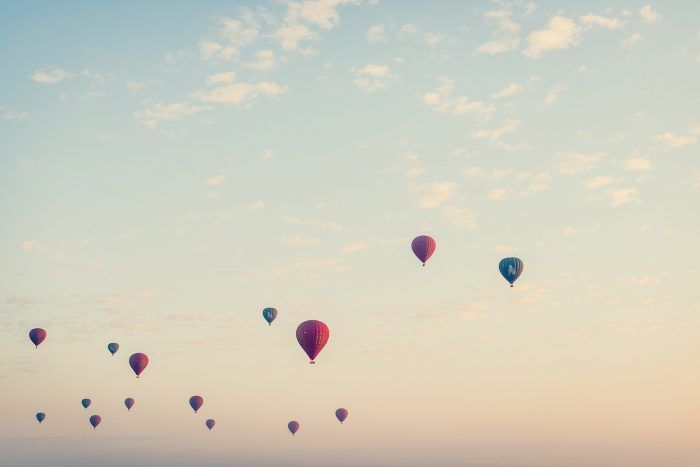 There are a few types of business models that Amazonpreneurs (Amazon + Entrepreneurs) like yourself can follow and hands down the best have to be Private Labelling, well at least for me. Instead of promoting someone else's brand through retail arbitrage or dropshipping, why not look at the bigger picture and build your own brand that you can grow into a household name?
There are many ways to source profitable products to sell on Amazon. You don't want to just go for any products and ended up in the dirt which is why I've crafted up a list of good product criteria to follow.
Good product criteria:
Niche Products – Be specific with the product you want to sell. For instance, you'd want to sell "stainless steel garlic press" instead of just "garlic press".
Evergreen / Low Seasonality – You want products that are going to sell consistently all year long and not seasonal stuff, for instance, Christmas decorations.
Good Margins – Products with 100% or higher markups (minimum 50% margin) are the way to go. You need to take into consideration Amazon fees, advertising, and product costs so you will be able to reorder again without cutting yourself short.
Small and Lightweight – The bigger and heavier it is, the more it costs to ship, not to mention higher storage fees.
Robust and Durable – Best to avoid fragile products as they might break during shipping.
Selling Price of $12 to $99 – Anything higher will require huge capital to get started but you can certainly try, just know it's just going to be riskier. Lower price points also target impulse buyers meaning, less consideration when buying an $18 product compared to buying a $200 product.
Less Than 1000 Reviews – Generally, products with more than 1000 reviews are proven to be very competitive due to loyal customers. It's risky but you can certainly try.
Now that you know what makes a good product, it's time to do some research on potentially profitable products to sell on Amazon marketplace.
Spot Your Niche Products
Wouldn't it be great to have somewhere you could go to see how successfully brand new products on Amazon are selling? Well, actually you can utilize Egrow's advanced suite of tools to browse products in the Amazon marketplace that are already generating profit and view all their data.
Egrow Database Research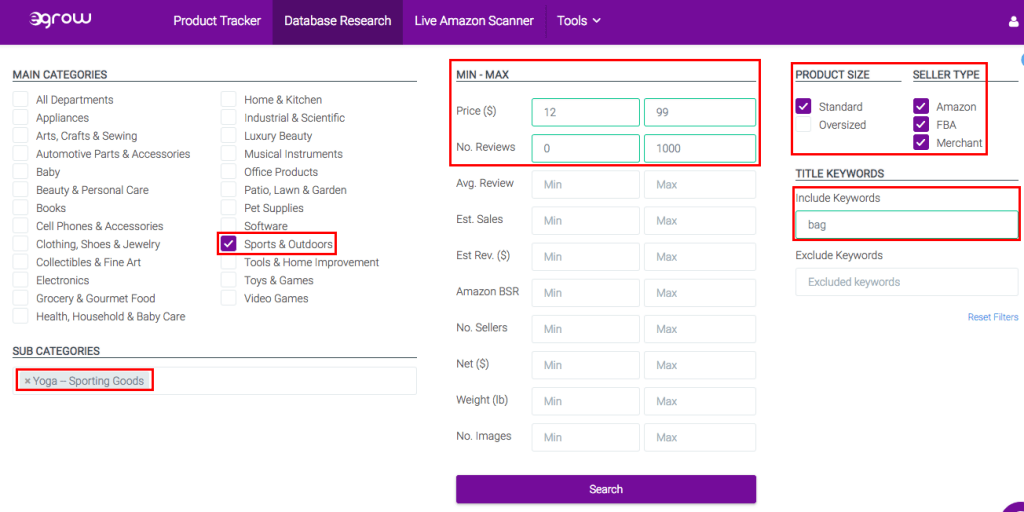 In this section, you are able to filter accordingly to only see products that meet your criteria and obtain a highly curated data. Looking at the image, here's a simple 3-step process to finding your potential profitable products.
Select the main category (i.e. Sports & Outdoors or a combination) OR narrow it down by entering a subcategory (i.e. Yoga – Sporting Goods).
Enter preferred criteria (i.e. Price, reviews, product size, seller type, etc).
Note: If no Seller Type is selected, Egrow will automatically perform the search within all 3 seller types.
Insert keyword to further drill down your results (i.e. bag, blocks, towels, etc).
Pro Tip: If you select both 'Sports & Outdoors' and 'Yoga – Sporting Goods' categories, you are searching in both of them.
Below is a results page you will see when searching for your products. There are a variety of products within the yoga niche and you can view and analyze all vital data to help you make the right product selection decision. Research is the key to spotting and sourcing profitable products and you can use this tool to dig deep into your niche to find the best products.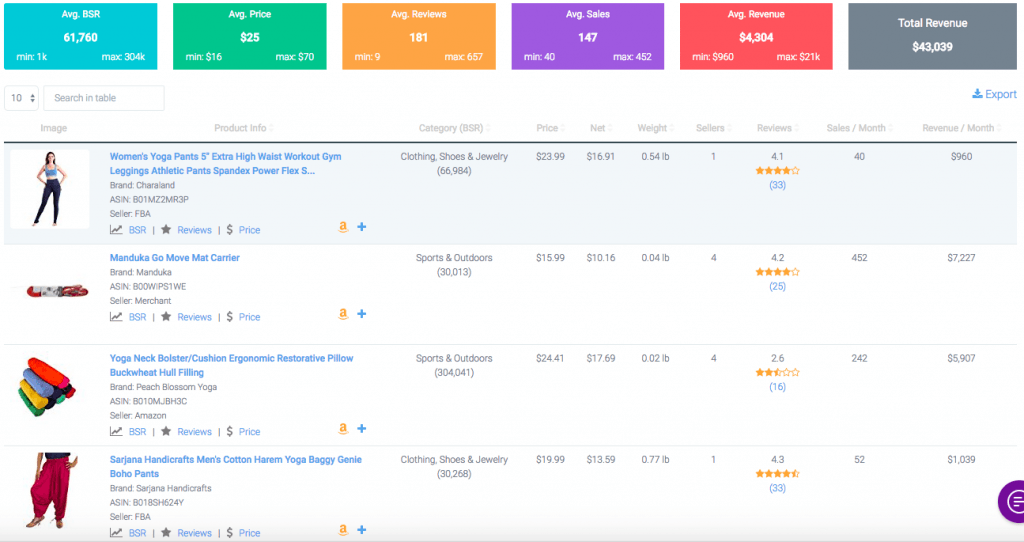 Product Research Analysis
Once you have a few products in mind, it's time to perform real-time research and analysis to figure out if the product is worth pursuing and this is where Egrow's Live Amazon Scanner comes into action.
Live Amazon Scanner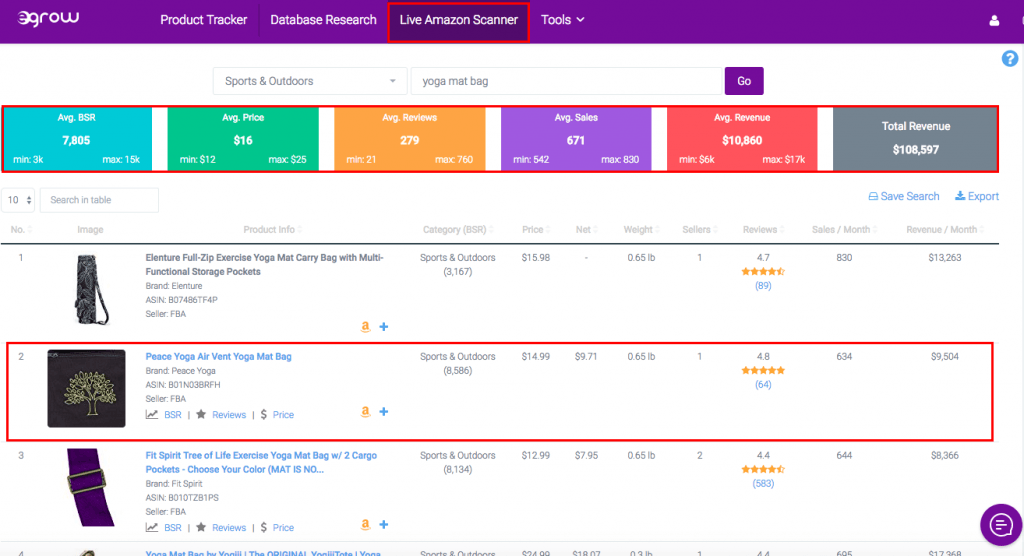 To get started, select the 'Live Amazon Scanner' tab then choose your product category from the drop-down menu, key in the product name (i.e. yoga mat bag), and click the 'Go' button. Viola! The tool displays all important data within seconds. Below are useful data retrieved from Amazon using the Live Amazon Scanner:
Product Image
Product Info
Category (BSR / Best Seller Rank)
Price
Net Profit / Product
Weight (lb)
No. of Sellers
No. of Reviews
Sales / Month
Revenue / Month
Utilizing the live scanner, you will be able to obtain accurate, real-time, and comprehensive metrics about potentially profitable products. This information can help you calculate the potential revenue of products you intend to sell and you can download the report for further analysis as well.
One of the handy features is that you can click on a product (i.e. Peace yoga air vent yoga mat bag) to view extensive details about it and add it to your list of products to track as shown in the image below.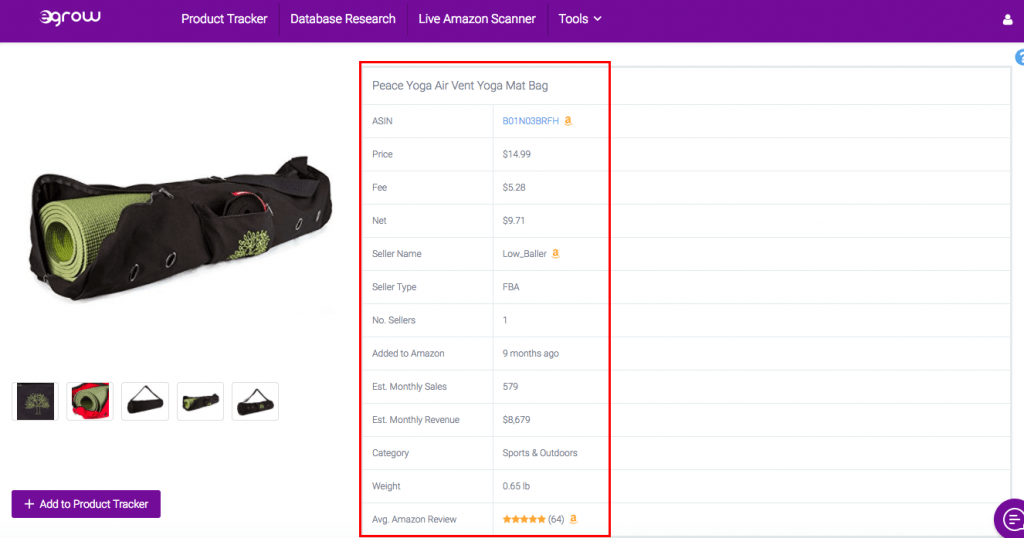 One of the useful information is the 'Net' column where you can use that as a guide to calculate your net profit. Using the yoga mat bag as an example, here's how the value is calculated,
Sale Price $14.99 – FBA Fees $3.03 – Selling Fee $2.25 = $9.71
You can find all FBA related fees HERE.
Pro Tip: Remember to take into account your product cost to obtain the net profit. For instance, if the cost is $3 then your net profit would be $9.71 – $3 = $6.71
Looking at the 'Added to Amazon' column, we know that it took the yoga mat bag approximately 9 months to achieve an estimated monthly revenue of $8,679 along with 64 reviews. That's pretty amazing and keep in mind that there might be variations for the yoga mat bag of which will further increase the revenue.
Tools – Saved Searches
The best part is that you can save your searches using the 'Save Search' button on the top right corner keeping track of your research. Once you have saved your research, you can view your Saved Searches under the 'Tools' tab as seen in the image below. Comparing all data retrieved, you will be able to make the right decision.

Here are 3 vital questions to ask yourself when searching for your product.
Can this product be improved? – To differentiate yourself from existing competitors, the easiest way is by looking at competitors' negative reviews. Read what their customers think can be improved and you have your answers there.
Can this product be bundled? – This is another way to improve the product and for you to get creative. For instance, if you are selling knife sharpening stone, you can bundle it with a step-by-step guidebook to sharpen a knife.
Can this product be private labelled? – As mentioned above, this is a great way to build your own brand and line of products and be in the game for the long run. Most products in the marketplace can be private labelled unless there is a patent on it.
Once you've decided products to kickstart with, then it's time for you to source reliable suppliers whether it is within the US or from Alibaba, China. Be sure to refer back to this post when you are unclear about using Egrow to discover your profitable products. Best of success searching and launching your most successful products ever to sell on Amazon.
Eugene Cheng is an Amazon business consultant and blockchain enthusiast. He helps aspiring and established entrepreneurs build a profitable Amazon FBA business so they can unlock their true potential. Learn more about him at https://wiseintro.co/freedomprofitsblueprint
Never miss a story from Egrow blog
Your Information will never be shared with any third party.