How to Discover a Profitable Product to Sell on Amazon in 2020!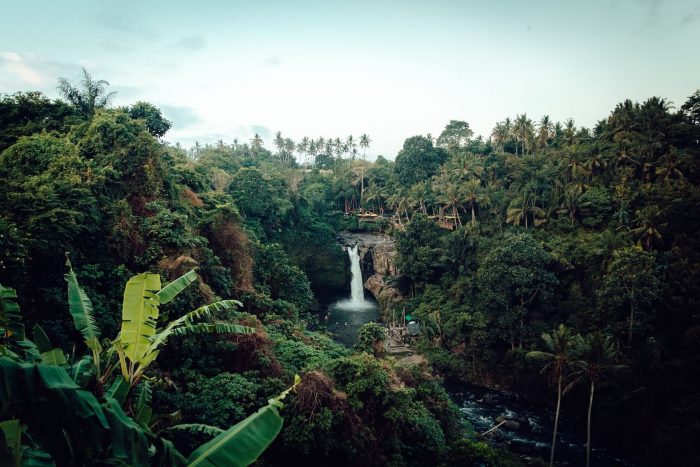 It's 2020, there are 2.5 million sellers on Amazon.  How do you find a product that will be profitable and sell well on Amazon?  Today I will share a few tips and strategies to finding a high-demand product to sell on Amazon. Finding a product to sell on Amazon should not come with ease. If it's easy, we don't want it! Today, I will provide action steps and ways to analyze potential products using the data Egrow has collected on millions of Amazon products.  This data can help you make informed decisions that result in finding successful Amazon products with reasonably priced software.
Tip #1 Don't Rush the Research Process
If you are finding a product to sell within just a few hours of research, then best believe other people are too! It's important to take your time researching and analyzing a potential product to sell on Amazon.  There are many working pieces that go into a product being successful on Amazon, and if you aren't doing a deep dive into analyzing them, you could be setting yourself up for failure. Don't be frustrated if it takes you a few weeks to nail down a product.  The worst thing you could do is settle for a product that you aren't 100% sure will be successful.
It's important to analyze keywords, competitors, margins, advertising costs, etc. If any of these areas of your product don't seem to favor you, it probably won't be a great product for you to sell this specific product.
I've compiled a list of main areas to research and analyze before finalizing your product selection, you can use Egrow to analyze for product research:
How many people would you be directly competing with?
In 2020, the biggest barrier to entry is that there seem to be many sellers for each product.  As you dig deeper into unique, less assuming products, you will find that there should only be a few direct competitors.  I'd say, a non-competitive market with 20 or fewer sellers is a great market to enter. Please be careful to search for product patents because fewer sellers could also mean the product is patented but generally finding a product with very few sellers is a great market to get into.  Typing in the main keyword into Egrow's Live Product Scanner will give you a quick idea of how many people are selling the product you are looking at. If you aren't sure what the main keyword is, Egrow also provides suggested search keywords that are high volume search terms frequently used by Amazon shoppers.  Try looking at those keywords as well.

How many ways is this product searched?
As the market is becoming more and more saturated, finding new keywords to rank on is becoming increasingly important.  For example, the main keyword may cost $2.00/click to bid on and if the competition is heavy in your market, it's going to continually get more expensive and also be harder to move up in rank.  It's important to run a keyword search on Egrow to determine:
How many keywords are relevant to your product? 
How many monthly searches does this keyword get on Amazon?
These are both equally important.  To run a search term on Egrow, simply put in an existing product's ASIN into the Egrow Reverse ASIN Lookup tool, this will show you how many keywords show up for the specific product and it will also show you how many times that keyword gets searched a month.  There should at least be a few (5+ keywords) with more than 1,000 monthly searches. If there isn't, that means the product is not in high demand and will not sell well. Search volume is important, but also remember that it's important for there to be many ways to describe your product.  For example, there are only so many ways to say cheese grater and obviously "cheese grater" is by far the most common way to search this product on Amazon; therefore, the bid for this keyword is going to be very expensive and hard to compete on. Making sure there are multiple ways to describe and say what your product is will lead to a much easier time ranking on different search terms.
Egrow's Reverse ASIN Research Tool shows you extremely important data points when deciding if the product you're looking at selling on Amazon will do well in 2020.  First, you want to see how the market is doing currently, you will do a search using your direct competitors' product to see
How many keywords they are ranked on page 1 for; and
How many other ASINs are competing for that keyword as well?
As you can see the ASIN screenshot below is ranked #1 for a lot of keywords.  The column that says 'Position' shows you where this specific ASIN is when you search that specific keyword on Amazon. This ASIN ranks very high for quite a few high search volume keywords which leads to great organic sales and less spend on advertising costs.  But one thing to be aware of is that this ASIN is competing with a lot of of other cheese grater listings who are also bidding on this same keyword. You can see this data if you look at the column called 'Products'. There are thousands of products competing for the same keyword.  A great strategy is to find a happy medium when it comes to good search volume and not a lot of competition. You can use the Reverse ASIN tool to find keywords with good monthly search volume and low competition. Finding these keywords will result in you ranking on that specific keyword faster and spending less to do it! This is a great strategy to try with existing Amazon products as well.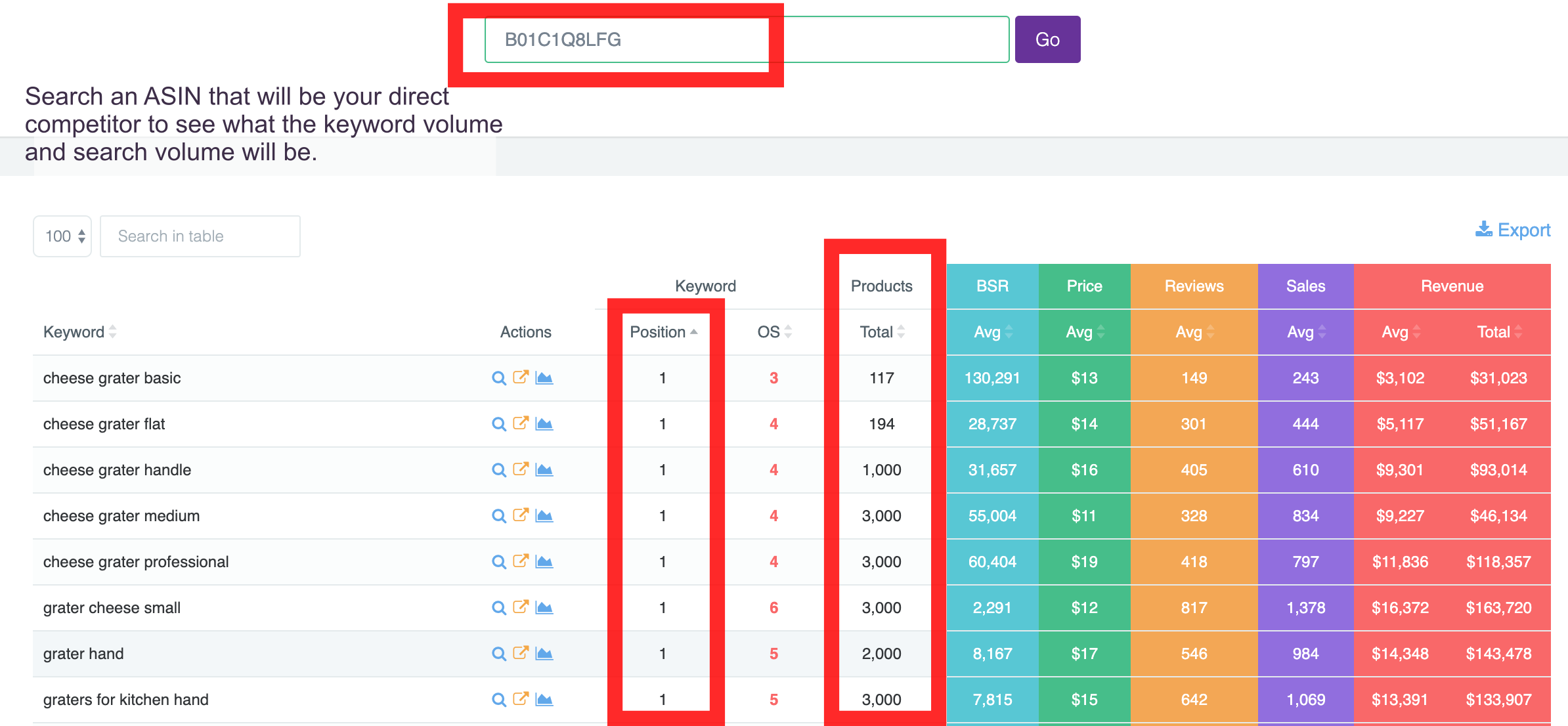 What are the historical trends of similar products?
If you are simply looking at a current snapshot of how products in the market are performing, you could be doing yourself a huge disfavour.  It's important to make sure that your potential competitors have been doing well long-term. Egrow provides a ton of historical data for you to look at.  You can look at pricing (to make sure there are no huge fluctuations), you can look at keyword ranking trends, you can even look at long term sales trends.  I would recommend looking at a few of your competitor's historical data to make sure that they are all performing very well and one person is not dominating the market. If one person is dominating the market, you will have to dig deeper into competitive analysis and potential trademarks. To find historical data on Egrow, go to the Live Amazon Scanner, type in your competitor's ASIN, click the Product Info column, this will bring you to a deep dive of all of the metrics Egrow tracks on all Amazon products.  Here you can export data and compare against the other competitors.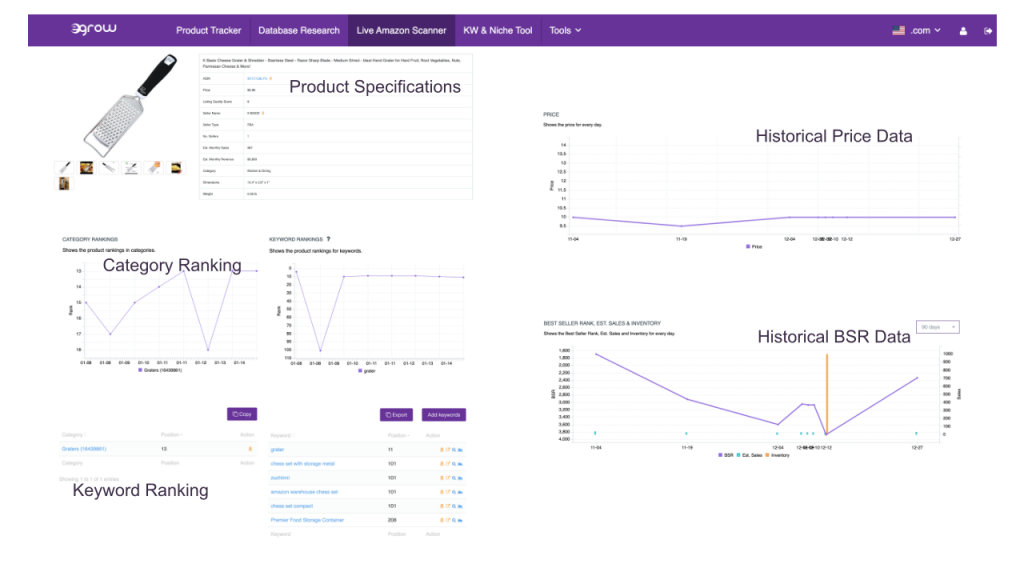 Tip #2 You Might be Competing with your Supplier
As an FBA seller, you are always at the mercy of your manufacturer when it comes to producing your product.  Your supplier could be your direct competitor on Amazon and offer better pricing on the product which becomes a huge competitive advantage.  That's why I find it extremely important for you to have other competitive advantages to offer to your customers. Packaging or add-ons are a great way to set yourself apart from the competition.  I highly recommend going above and beyond with your product's packaging, customization, inserts, and photography. Your supplier can mimic your product (unless you specifically trademark your product or sign a non-compete), and offer the product at a less expensive price because they are self-manufacturing it.  However, you have the ability to make your product stand out among the competition by investing in other parts of your product such as photography or packaging. In 2020, it's very easy for suppliers to mimic a very profitable product very quickly, so setting yourself apart from the competition in different ways is vital for the longevity of your product.
Tip #3 Customization is Key
Like I mentioned before, the turnaround time for mimicking a high sales product on Amazon is very fast.  Suppliers who have access to similar materials are always looking for the next best selling product on Amazon.  So in that case, it's extremely important for you to be aware of this and invest in customization. Customization could be as simple as changing the color, shape, size, etc. of the product.  It does not need to be a whole new invention but making sure you are tweaking your product to be new and innovative will set you apart from the competition. If you aren't sure what changes to make to the current product, start looking at negative reviews of current likewise products.  Going on with our example, a common critique is that the loft bed shelf doesn't offer enough space. You could simply add-on a complimentary product that costs just cents to produce but adds enormous value to your product. Find out where your potential competitors are lacking and see if you can make up for that in customization or adding a new feature to an existing product.  This will help you stand out among the competition and increase your price because you added value.
Tip #4 Don't try to find a million-dollar product
Flying under the radar is the best way to be successful on Amazon in 2020.  If you don't have thousands of dollars to back your product launch, you should not be considering high revenue products.  The products that are making hundreds of thousands of dollars a month are investing many thousands of dollars into inventory, PPC, and advertising.  They have competition continuously trying to steal their ranking and sabotage their product. I would highly recommend finding a product that doesn't have such strong competition and is not a fad product that is very popular. We do not want to enter a market where the competition is steep.  Therefore, we will find a product that shows steady, historical success; that doesn't jump out to large amounts of people as a product that can generate a lot of money. This will allow you to build up your product's rank without having to spend tons of money doing so. This will be the most economical way for you to be successful in selling on Amazon in 2020.  Finding an Amazon product that is under the radar is sometimes quick difficult because the product is so unassuming; I typically try to find a product that is generating $15,000-$30,000 in revenue a month. I also look at the historical trends of current sellers on Amazon. Have they had steady sales and ranking for months? Do they keep a steady price point?  These are all good signs that the product is bringing in steady cash flow and that you should be able to expect the same kind of sales.
Tip #5 Stop thinking Low Price; Start thinking High Value
Throwing a generic product on Amazon is going to result in you drowning in advertising costs just to get a few sales.  If you don't have any competitive advantage to offer over the competition, it will be a race to the bottom to see who can offer the lowest price, because you have no other competitive advantage.  This brings me to my next point, stay away from markets that are price driven! If you see the top seller for the product having the lowest price on the market, you do not want to get into that market.  That market is driven by price; meaning, customers care about getting the best price, even if the quality is compromised. My #1 tip for selling on Amazon is for you to have such a unique competitive advantage that you immediately start to dominate the market and rank #1 across many high volume keywords.  Doing something that's never been done is risky, but what is riskier is blending in with everyone else. You need to be creative with product add-ons, packaging, usability, gift-able products. This is what is going to set you apart from the competition in 2020.
I hope today's tips helped you think differently about selling on Amazon in 2020.  The demand is there, but the market is changing. Instead of putting a generic product on the market, the focus of 2020 should be to increase the value of the product and provide an innovative and enticing product.  Spending in areas such as photography, packaging, quality, and innovation is the only way to compete on Amazon in 2020. The days of putting a crappy, generic product on the market are over. There are so many sellers on Amazon that can enter the market at any time, so low pricing is not enough of competitive advantage to be the best in your market.  Overall, take your time finding a steady, yet underrated market to enter; but most importantly, do not fall short on quality and innovation. Amazon will continue to grow and innovate, and sellers who want to dominate the market must also do the same.
Never miss a story from Egrow blog
Your Information will never be shared with any third party.