JungleScout vs Helium10 vs Egrow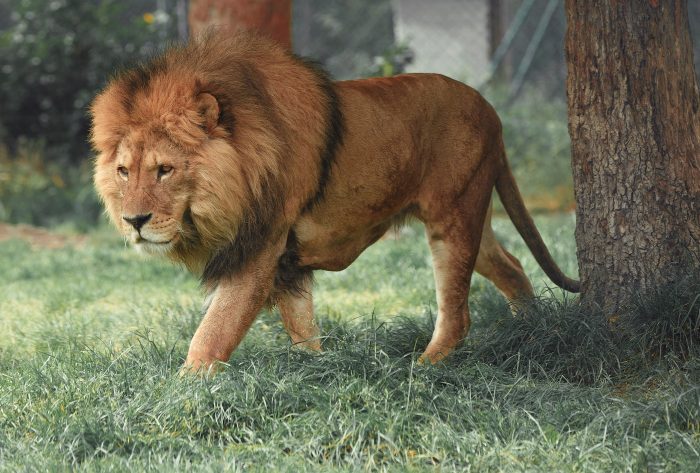 With so many options available, it's hard to know which is the best Amazon FBA software as a new (or advanced) Amazon FBA seller.  I have been selling on Amazon for a few years and tried all three of these FBA tools: Helium10, JungleScout, and Egrow. Today I wanted to run through some pros/cons of each tool and which one is my favorite.  First, let's start with the criteria that I think is most important Personally, I think what matters most in an Amazon FBA software is:
Data: How updated is the data in the tool?  How is this data collected? Is the data accurate?
User-Friendly:  Can I learn this tool quickly?  Is it easy to navigate? Does everything function correctly?
Types of Tools:  How many tools are included in the software?  Are these tools relevant to what I need to make strategic decisions?
Affordability:  How much is the software?  Does this tool make me more money? Is it worth the price?
All the questions above are discussing points and will be answered for you today! I am going to perform an in-depth analysis of Egrow in comparison to JungleScout and Helium10. Egrow offers all of the same tools as other FBA software companies, but you are paying a fraction of the price.  So let's see if Egrow can match up to some of the older software companies in the FBA community.
Data
When choosing a FBA software, the absolute most important factor to consider is accurate data.  You cannot make strategic business decisions without accurate and up-to-date data. You would be doing yourself a huge disservice by not understanding how each company collects its data.  So I reached out to JungleSout and Helium10 to ask them the following questions:

1.  Where are you getting your data from?
2.  How often is your data updated?
Both JungleScout and Helium10 emailed me back referring me to an article they have on their website. To recap the articles, both companies said they took big data from Amazon and used algorithms to create estimations of sales, search volume, and other metrics.  They also emphasized that they cannot share their technique of gathering data. I don't find this abnormal because obviously, they would go out of business pretty quickly if everyone knew exactly how they were collecting their data; but I did find it disheartening that their answers were so broad and unhelpful.
Unlike Helium10 and Junglescout, Egrow is very straight-forward and honest about where the data come from and how often it's updated.  All information on data collection is listed right on the website and easily accessible. Here's a quick explanation of how Egrow gathers their data directly from Amazon listings:  "We update our data on a daily basis with the help of a so-called "scraper". This scraper is a program that visits amazon pages the same way a normal human being does and collects all visible (and invisible) information such as title or price of a product, the ranking position for a keyword and much more from it. On top of that, we also have daily data for tracked products and keywords which are added by our users."
Egrow's data is updated daily as well as Helium10's and JungleScout's.  From the information I gathered surrounding the three companies; all are gathering data frequently and using it to develop the similar if not the same metrics.  With Egrow being ⅕ of the price as the other competitors, while also collecting all of the same data, it seems like a no-brainer to save some money monthly, invest that money into your business, and still have accurate (yet affordable) data at your fingertips.
Tools Included
Now that we've discussed the accuracy of data, let's discuss what you get for your money.  For the standard price:
Jungle Scout has 6 tools.
Helium10 has 16 tools.
Egrow has 8 tools. 
Jungle Scout's tools are very basic and widely offered by almost every FBA software company.  I honestly believe, the reason they are able to charge the price they do for their tools is because they were one of the original FBA software companies to be created; yet have fallen behind on innovation in my opinion.  Helium10 claims they have 16 tools, I personally believe some of these tools are redundant are just added to out of quantity, not quality reasons. For instance, the review downloader and inventory protector are tools that you have full access to through seller central; and the 'Follow-Up' email automation software costs an additional $47/month and is not included in the standard package; so I would be more comfortable with saying Helium10 has 13 (legitimate) tools.
Egrow has 8 tools all included in the basic monthly plan and these tools perform all of the functions that Jungle Scout's do, plus more embedded tools within the core 8.  Let's go over them.
#1 Product Database:  This tool is amazing for collecting data on potential products you want to sell on Amazon.  If the product looks promising, you can add it to your 'product database' and it will track revenue, sales, BSR, and more.  It's essential to track potential products for some time to gather data about the product so you are not basing your decisions off of a short-term analysis.  Product Database keeps all tracked products in one central location to make it easy to analyze.
#2 Live Amazon Scanner: This tool is one of the most important tools on Egrow, this is the market research tool that allows you to type in keywords directly into the tool and find potential products to sell.  There is no need to open Amazon, type the keyword, and open a chrome extension; this tool provides all that information in real-time for you to analyze.
# 3 Saved Searches: It is extremely common (and best practice) to watch trends of a potential product you are going to sell on Amazon.  You want to make sure the BSR, daily sales, and revenue all stay consistent. That's why Egrow created the 'Saved Searches' tool.  This helps you keep track of all the products you want to keep tabs on in one central location. It makes it very easy for you to notice any new trends and keep an eye out on potential products that you could possibly sell.  Just save the ASIN of the product you want to keep track of and Egrow will collect data for you!
#4 Product Tracker: Egrow adds data specifically for you!  Egrow collects data on thousands of products but if you find one that hasn't already been added to the system, you can add the product to product tracker and within 24 hours Egrow will start collecting data about the product.  I personally track all of my competitors and potential products I am considering selling in the Product Tracker so the data is easily accessible.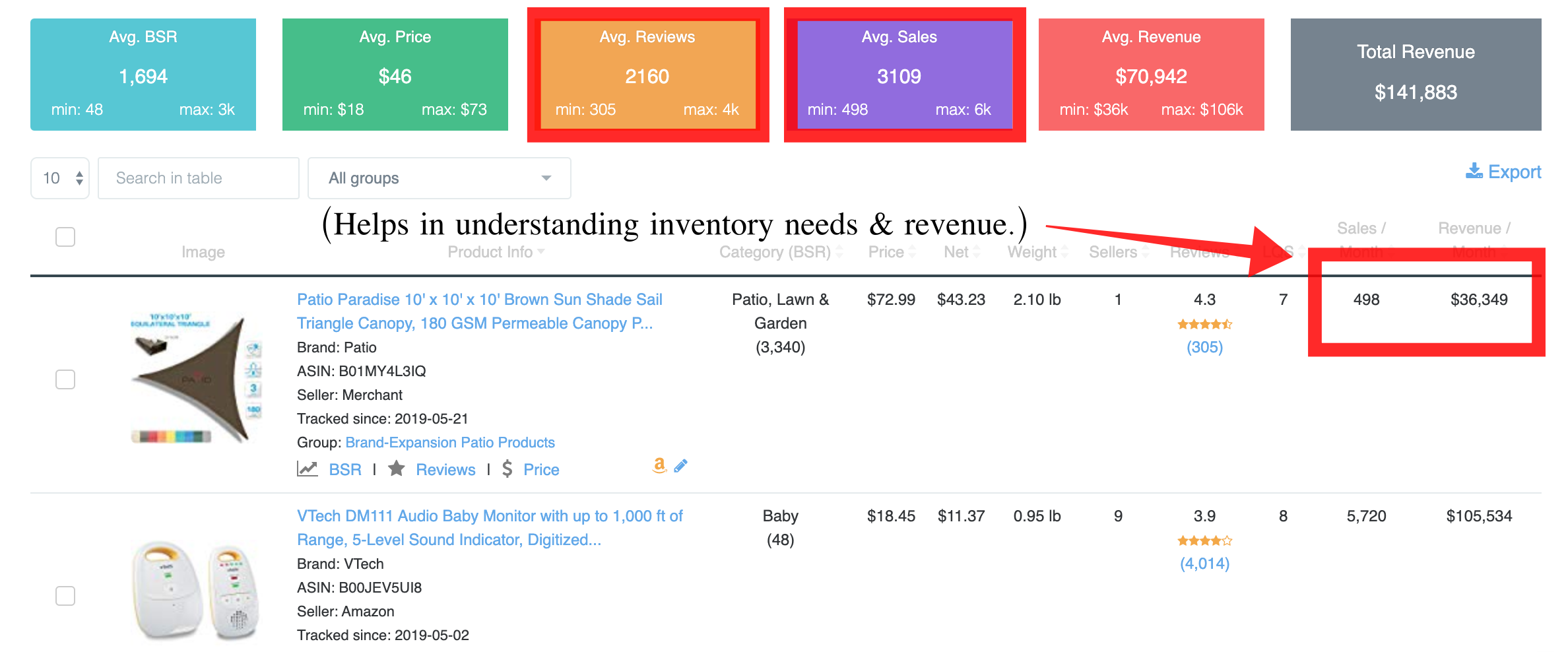 #5 Keyword and Niche Research Tool: If you are looking for a product to sell on Amazon, this is the tool for you.  Simply input your requirements and Egrow shoots out a bunch of options for successful FBA products.  It's a great starting point as far as finding great products. Read more about Keyword & Niche Research Tool here.
#6 Reverse ASIN Research: This tool is hands-down the best tool for stealing competitor's keywords and finding new keywords to rank for! I am always pulling up competitor's keywords and making sure I am bidding on them to move my listing up in rank.  For instance, let's say your listing is the listing below: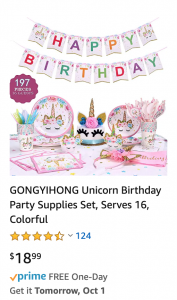 And you need to out-rank your competitor: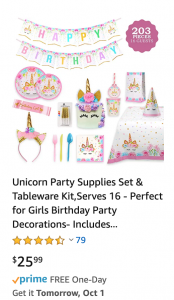 Reverse ASIN Lookup Tool: This tool will quickly show you all of the keywords that your competitor is ranked on page 1 for.  You can use this data to steal their sales and rank on page 1 for! This tool not only helps lower your advertising costs but it also results in more organic sales; which is why Egrow's tools are so valuable.
 #7 Rank Tracker: The #1 key to a successful Amazon business is tracking your rank on different high volume keywords.  The lower your rank, the closer you are to the top of page 1. With Egrow's Rank Tracker, you simply import the keywords you want to rank your product for, and Egrow pulls your rank from Amazon and updates your table daily.  You can quickly see which keywords are moving up or down in rank, and adjust your strategy based on that. I highly recommend you use a rank tracker for your Amazon products to keep your strategy clear and focused.

#8 Amazon Market Research Chrome Extension:  The final tool Egrow has is the market research chrome extension.  This tool helps determine if there is potential to sell in a specific market.  This is often the initial step of finding a product and it is vital that your information is 100% accurate.  I always suggest you compare data of multiple market research tools and whichever two tools have the most similar data are the tools you should be using.  So let's see which FBA Softwares have the most similar data! I typed in "birthday supplies" into Amazon.com; below are screenshots of Egrow, Helium10, and JungleScout's market research tools.  I like to make sure two of the three market research tools have similar revenue data. As you can see from the screenshot JungleScout's data is way off in comparison to Egrow and Helium10.  I would eliminate that software because the data is skewed and shouldn't be relied on.  So now we know that the ball-park revenue is similar for both Egrow and Helium10. Now you can choose which software you want to proceed with.  By going with Egrow, you are saving $972 a year by choosing Egrow instead of Helium10; enough to launch a 2nd FBA product! I personally believe if you are getting the same data and software, why spend so much on overpriced software?!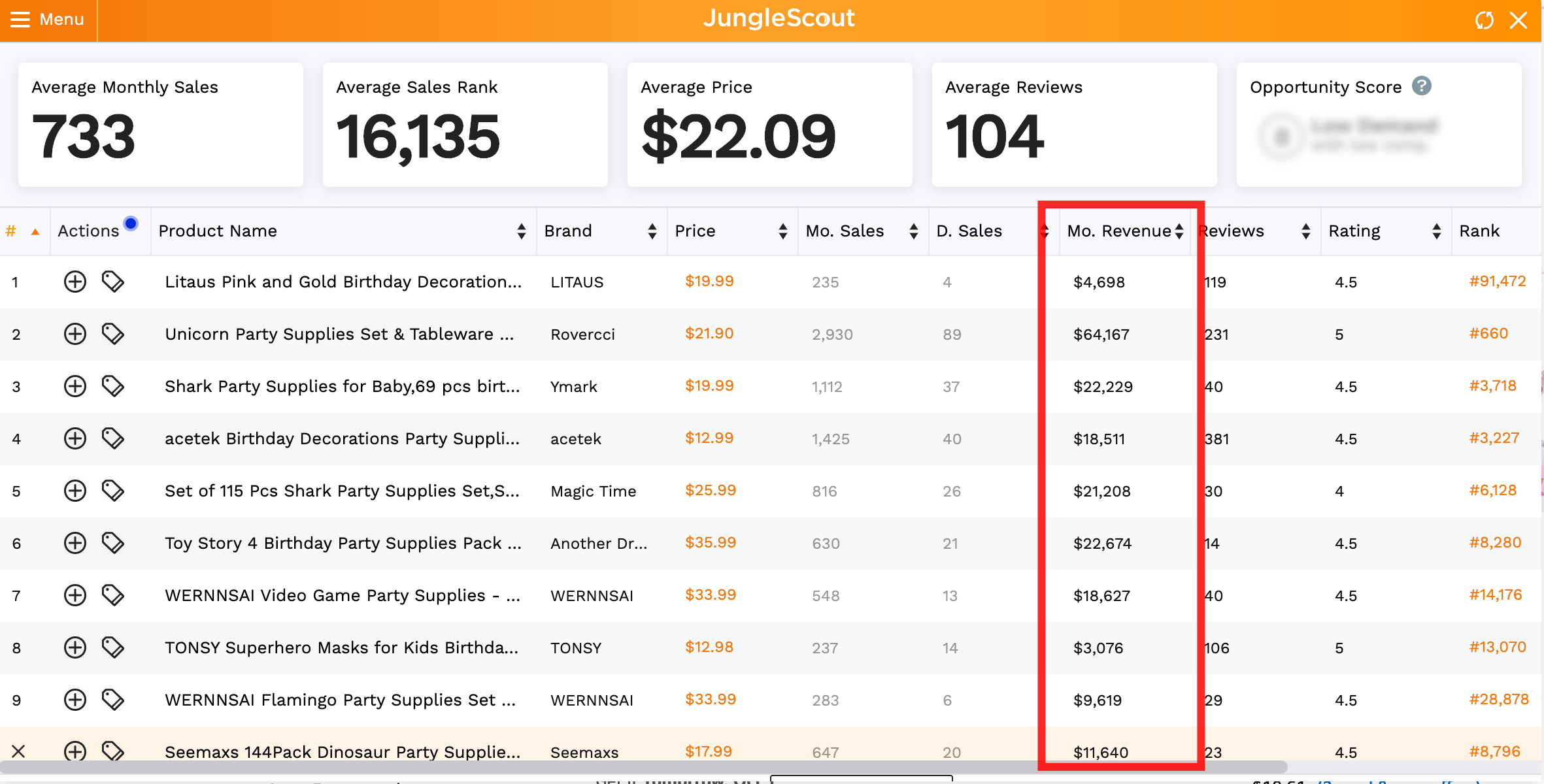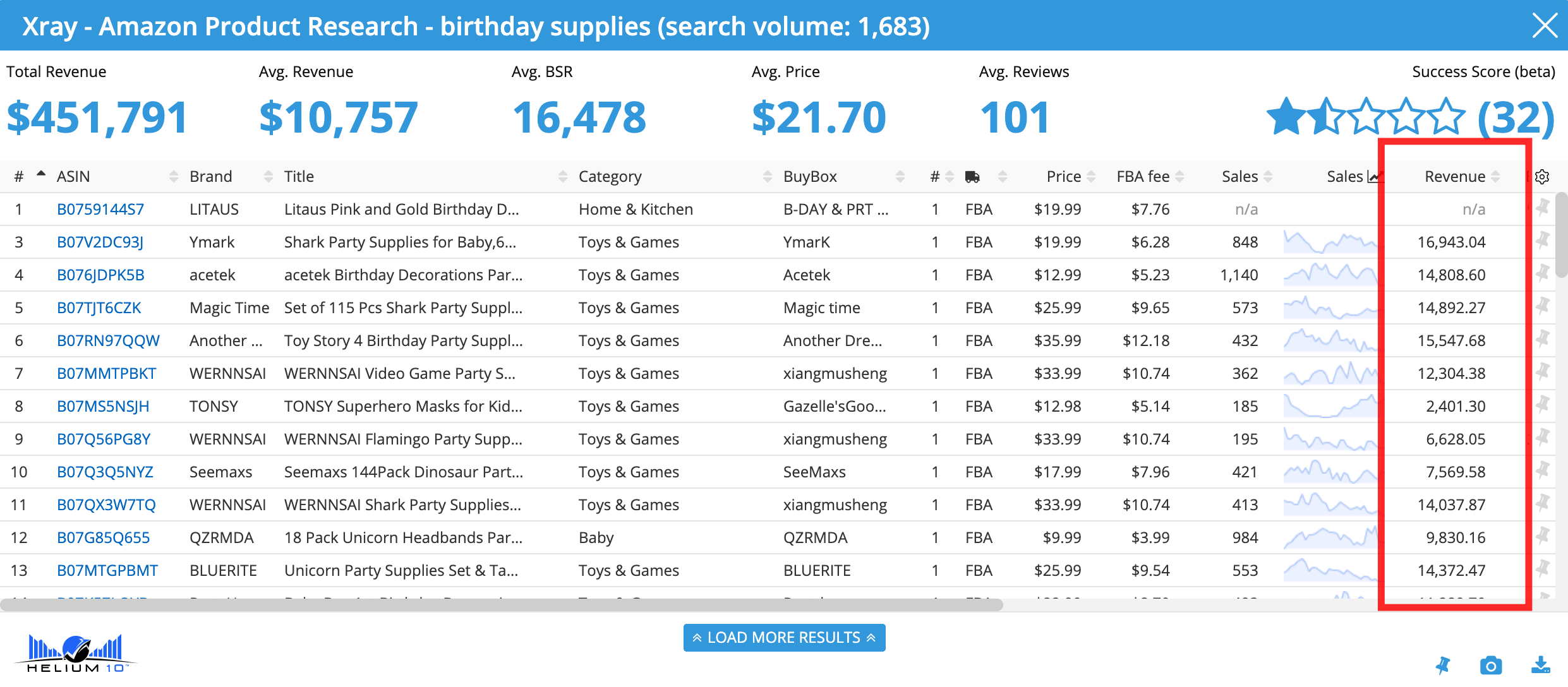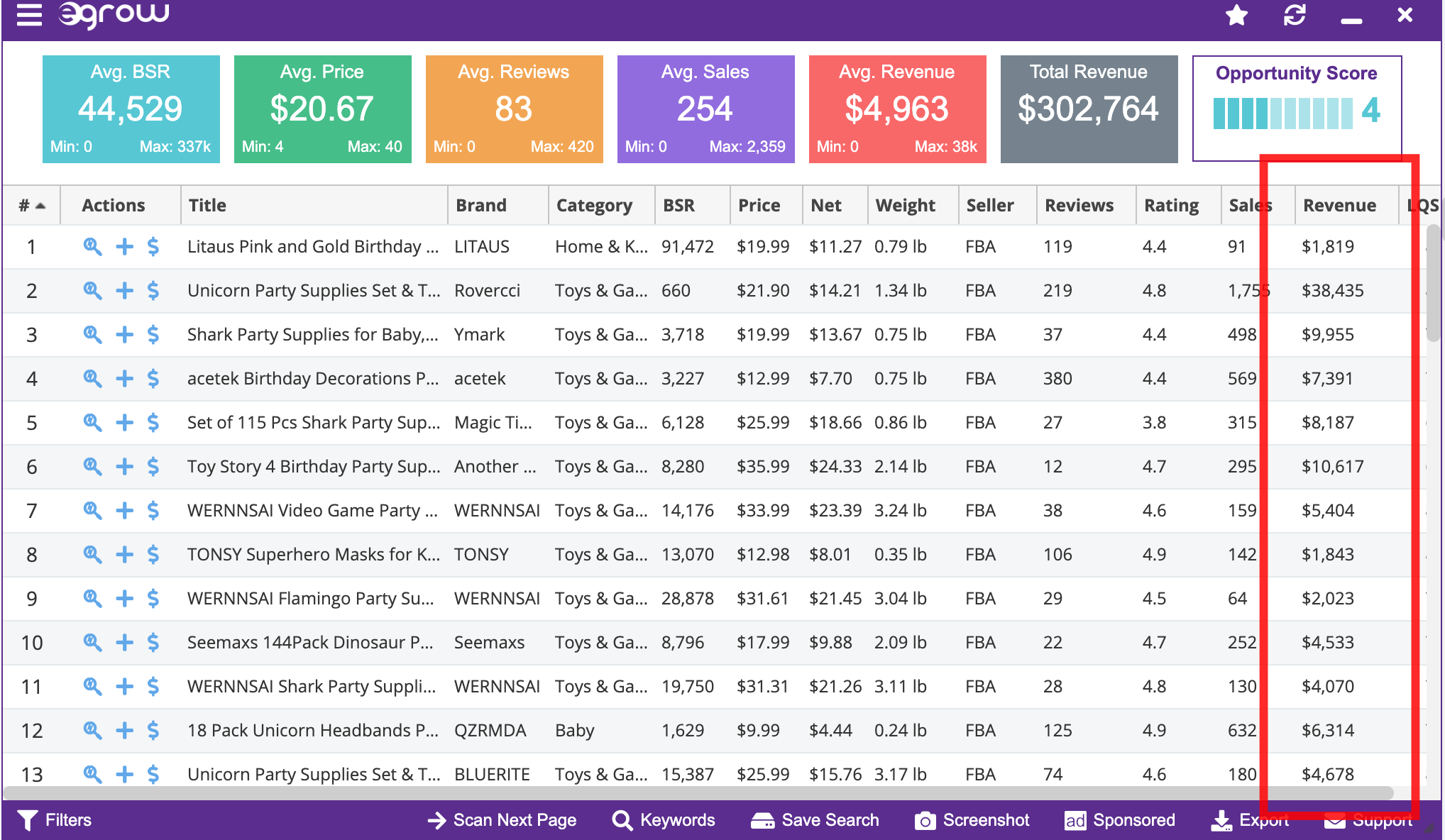 User-Friendly
In all honesty, I think all the tools are very functional and easy-to-learn.  With that being said, I think it is extremely important to be able to export tables in your software.  I can confirm that all 3 softwares have export abilities so you can look at the data in Excel or copy large amounts of data quickly.
All three companies offer extensive amounts of resources on how to use their software, which makes it easy for you to understand the data, metrics, and different tools that you have available. I've purchased all three of these softwares and used all quite frequently trying to figure out which one was my favorite.  I would have to say, Egrow is the easiest to use and grasp quickly. If you hover over any metric or number, Egrow has provided a breakdown of what that metric truly means. This is especially helpful when trying to figure out what metrics are most important and which aren't. I think metric descriptions are extremely helpful for new sellers so keep that in consideration if you are just starting out!
Affordability
At Egrow, they know that the majority of FBA sellers are run by 1 person or very few people.  They are creating value in their software not only by extremely accurate and relevant data; but also by price.  Egrow's software is priced so it can be the most affordable yet accurate option on the market. Like I mentioned earlier, JungleScout is one of the original FBA software companies so their brand has a lot of recognition in the community; however, they are no longer innovative yet still raising their prices to compete with other expensive software companies. Helium10 is one of the most expensive FBA softwares on the market; charging at least $97 for the standard plan, plus another $47 if you need email automation.  Spending at least $144/month is not feasible for new Amazon sellers and cuts deeply into any profit they might be making.
So let's break down the prices! Below is a table comparing JungleScout, Helium10, and Egrow's standard chrome extension + software packages.  As you can tell, Egrow is considerably more affordable! Egrow believes software should be affordable for every seller, new and advanced. As a new seller, you should be investing your funds in an amazing product, photography, design, etc.  The software shouldn't dig deep into your profitability; especially, when you are getting consistent, reliable data at a considerably lower price than the competitors. With Egrow, you are getting accurate data (as shown on the chrome extension example), and you are getting all the necessary tools for daily operation and growth; so why would you pay 5x more for the same thing?  Check out the table below to see how much you could be saving a year!
 

| Egrow | JungleScout | Helium10 |
| --- | --- | --- |
| $16/mo | $69/mo | $97/mo |
| 8 tools | 6 tools | 16 tools |
| $192/year | $828/year | $1,164/year |
As you can tell, Egrow is the most affordable option by a long run!   You can save almost $1,000 by switching or using Egrow instead of Helium10.  An extra $1,000 in your pocket to reinvest in your business or save for your next FBA product.  If you are getting the same accurate data at extremely more affordable prices, why would you overpay for expensive software?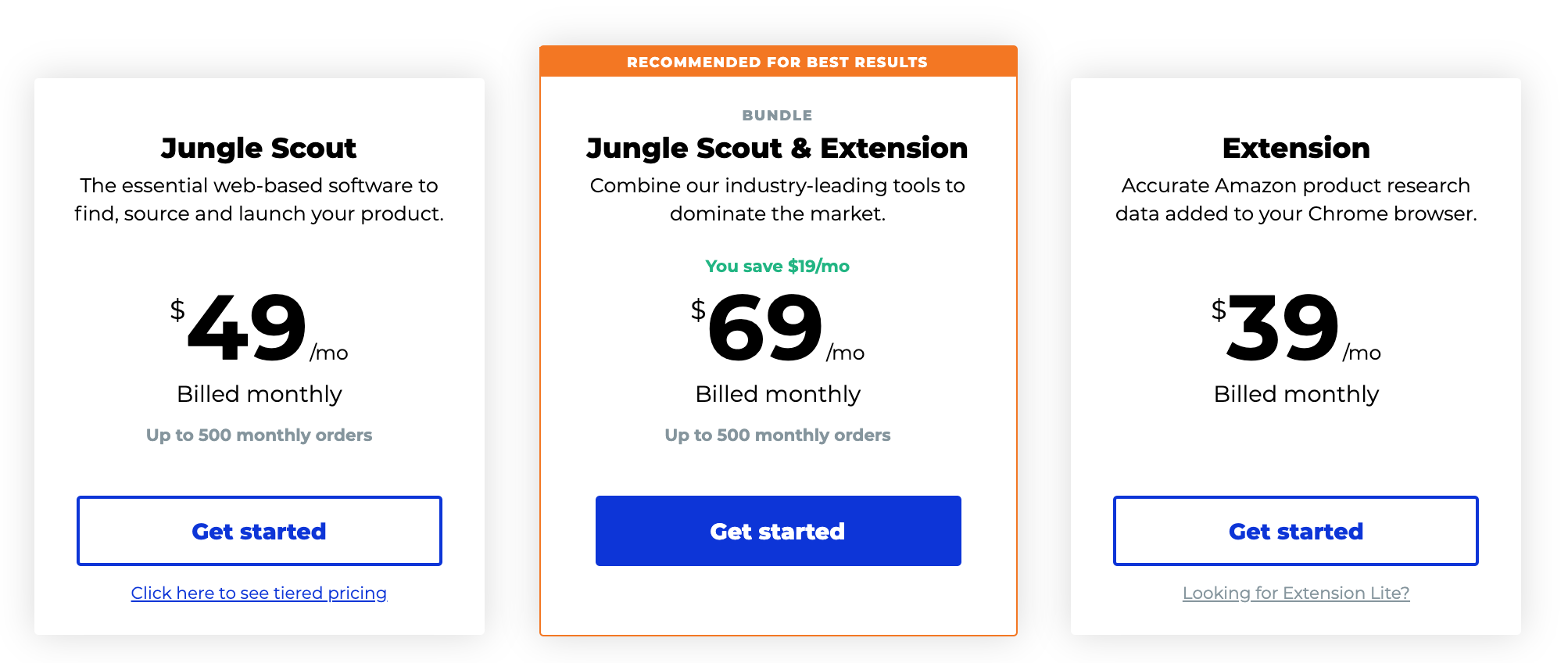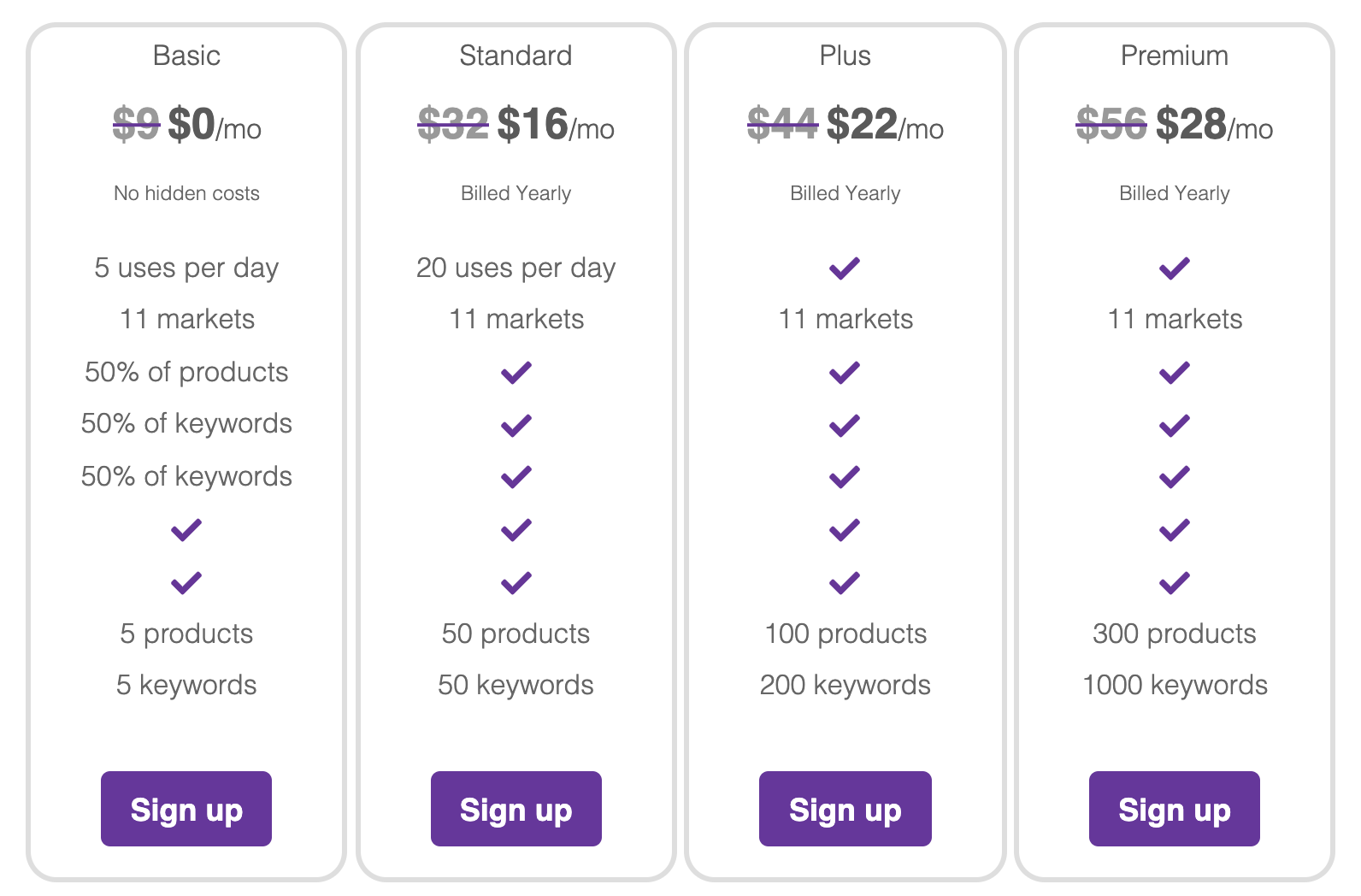 My Final Opinion
Why pay more if you are getting the same data?  I have personally worked with each one of these softwares and I think they are all quite comparable in functions.  They all have the same primary tools that are so essential to your FBA business. They have all the same tools but do they have all the same data?  No! No software company will have the same data because they wrote their algorithms differently. I will say, time and time again; JungleScout's data has been extremely skewed. Their numbers are consistently way off in comparison to the other software I use. Make sure you are cross-checking data and making sure your data is similar between two different companies when initially picking a product.
So now that I've eliminated JungleScout as a competitor. Now let's figure out which is better; Helium10 or Egrow. As far as data, they match up almost perfectly. Like I said, no two software companies are going to have the exact same data; but Egrow and Helium10 are very close. So this makes me confident that the data is accurate. At this point, it comes down to price for me. If you are a smart entrepreneur, you know that every penny counts.  If I am getting the same (accurate) data from two companies; one extremely expensive and the other option more affordable; I am going to go with an accurate and affordable option.  As mentioned earlier, you are saving close to $1,000 a year by going with Egrow instead of Helium10. That is enough to re-invest in product or add a new product to your business. It's absolutely a no-brainer for me to pick Egrow as the best FBA software company in 2019.
About Me
Thanks for taking the time to read my opinion-based article.  My name is Liz, I am an FBA consultant for small business Amazon sellers.  I work solely with small e-commerce businesses to help ensure they are making smart strategic business moves for their Amazon business.  Egrow is a great software company that I often recommend because of how affordable it is.  I have used many FBA softwares throughout my time as a seller and in my experience, Egrow's data is very accurate and up to par with other leading software companies.  I would absolutely recommend giving Egrow a try!
Liz
Amazon Consulting and Coaching 
eBizwithLiz.com 
Never miss a story from Egrow blog
Your Information will never be shared with any third party.