What is new in the Egrow Amazon Chrome Extension?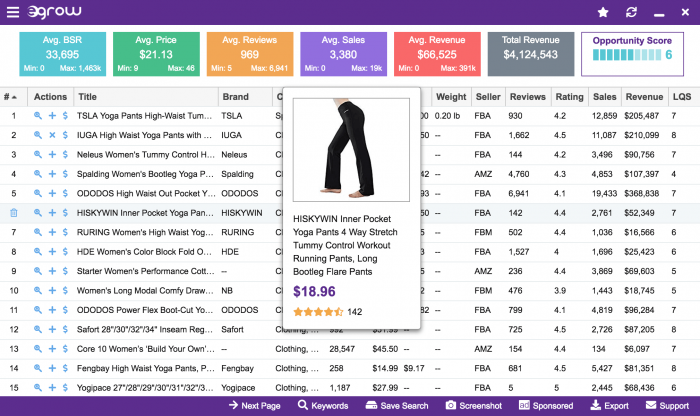 The Egrow Chrome Extension for Amazon sellers is getting better and bigger. Based on hundreds of feedback emails we received from Egrow community members, we are constantly adding new features and improving existing ones.
Here are some of the latest features added to the Chrome Extension that make it the ultimate tool for Amazon Sellers around the globe.

Every second and MILLISECOND counts
84% of members of Egrow community have reported that the speed of application is an important factor in the product research process. We are taking it seriously and each update done at Chrome Extension has significant improvement in speed and stability. We are proud of the fact that Egrow's Extension is the fastest on the market.
International Amazon Markets
Egrow works on almost all international Amazon markets:
Amazon USA (.COM), Germany (.DE), India (.IN), United Kingdom (.CO.UK), Canada (.CA), France (.FR), Italy (.IT), Australia (.COM.AU), Spain (.ES), Turkey (.COM.TR), Brazil (.COM.BR)
Easily access Egrow Web Tools with a single click
On the top left corner you can access all tools inside Egrow's member area (Product Tracker, Database Research, Live Amazon Scanner, Keyword and Niche Tool, Saved Searches – Bookmarks, Reverse ASIN Research Tool).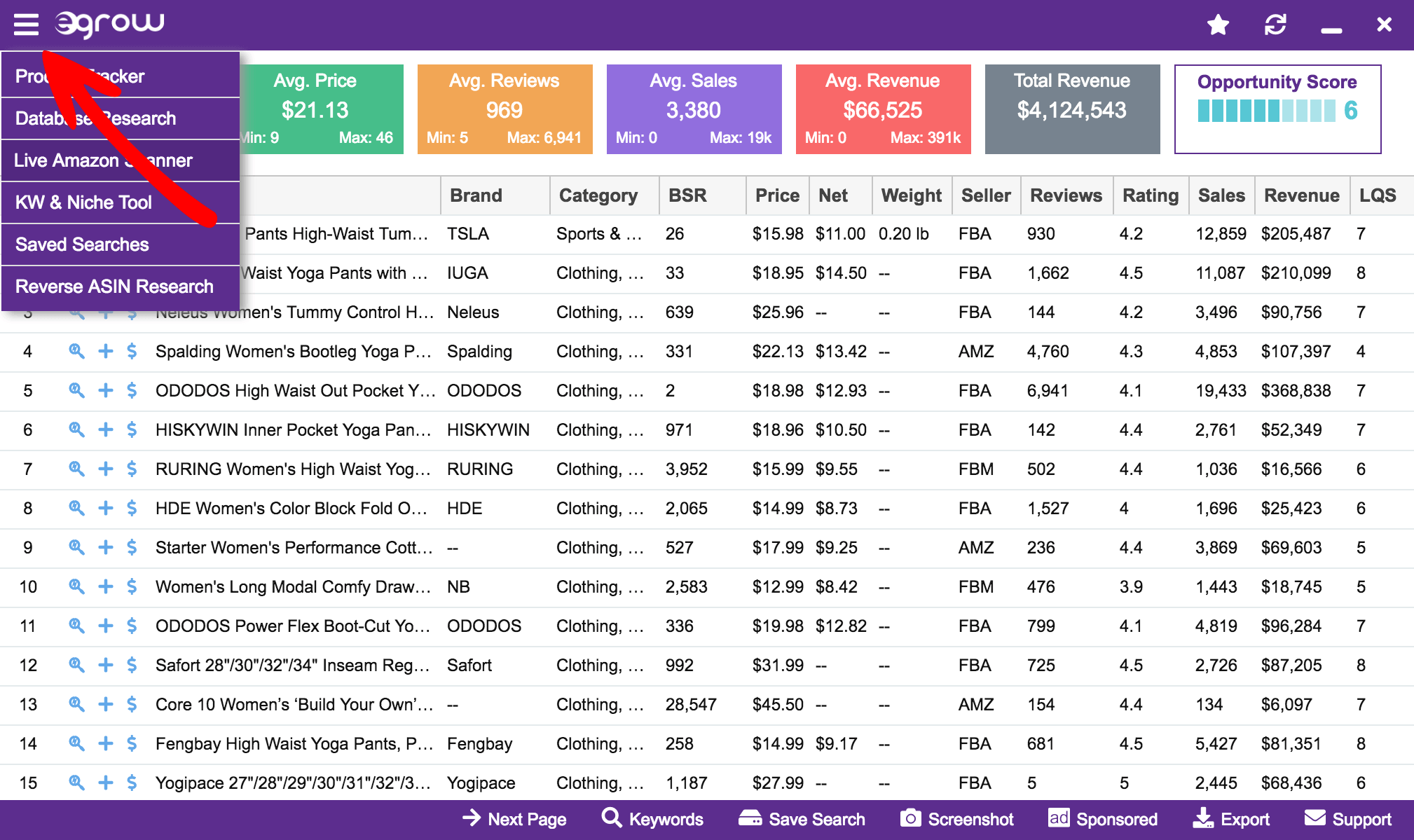 With a single membership plan, Egrow offers numerous powerful tools for Amazon sellers – from beginners to pros.
If you didn't find time yet to explore these features, we are inviting you to visit the member area and play around. At the top right corner of every page is a small question-mark button that will give you a basic overview (text and video) about each tool.

Manage Product Listings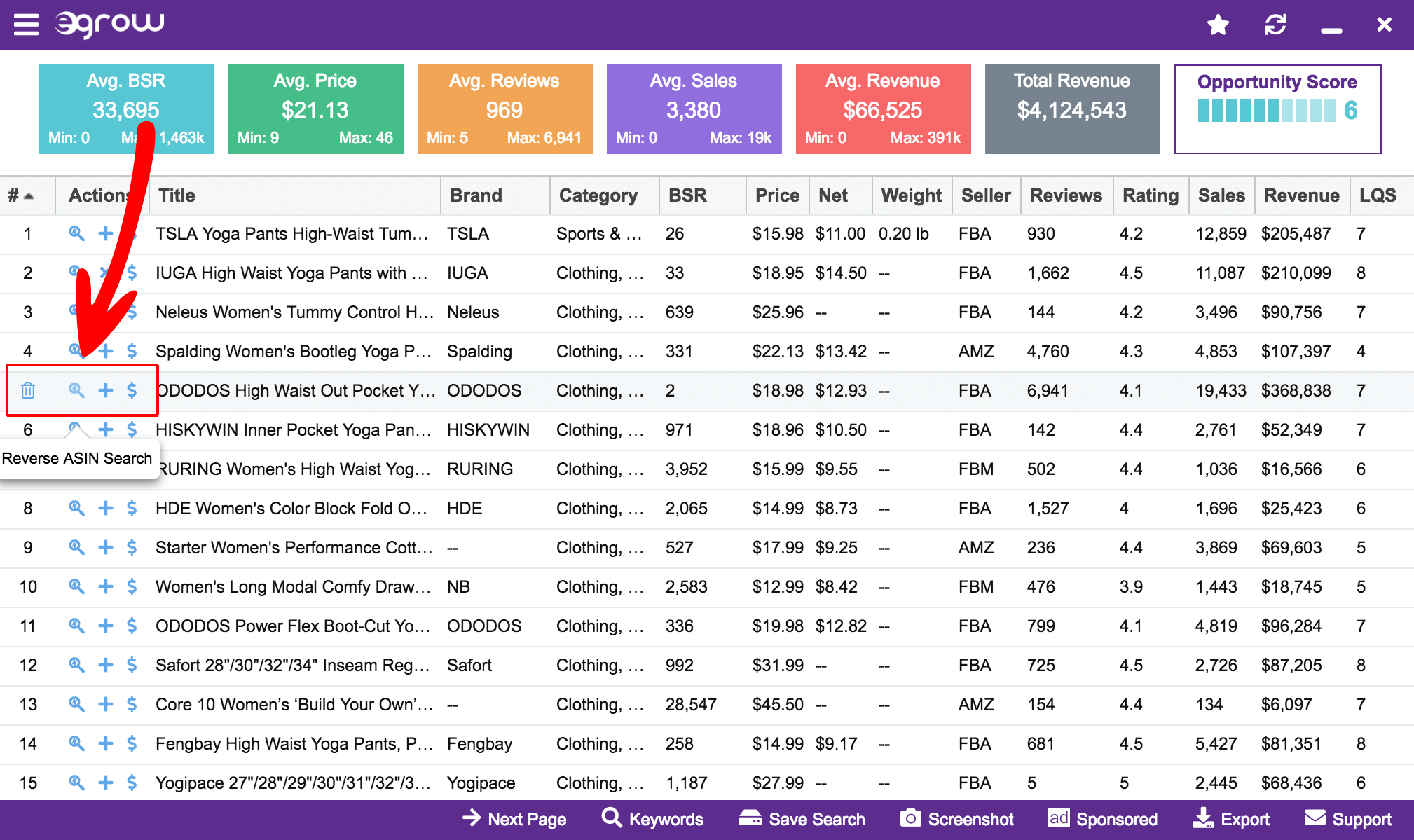 Inside the plugin results table you can find action buttons next to each product:
Remove Product will delete the row from the results table. You can exclude products from the table and use the Export feature to save only important listings for further research. In the bottom area the button "Sponsored" will remove (or add) all Sponsored Ad listings from the displayed results.
Reverse ASIN Search – spy on Amazon product keywords with detailed statistics for each keyword term. Reverse Amazon ASIN tool will show you for what keywords the chosen product is ranking in organic Amazon search results.

You can see details for each keyword, such as:
– Position in Amazon results.
– OS (opportunity score) calculated by Egrow's algorithm.
– Search Volume
– Total – the number of products in the search results for the corresponding keyword.
– A table with average values calculated for the first 10 products of that keyword.
Add to Product Tracker – will add the product to the Product Tracker tool inside Egrow's member area. By adding a product you will start monitoring daily changes of the product.
Profit Calculator. Easily calculate potential profit with preloaded data for each listing.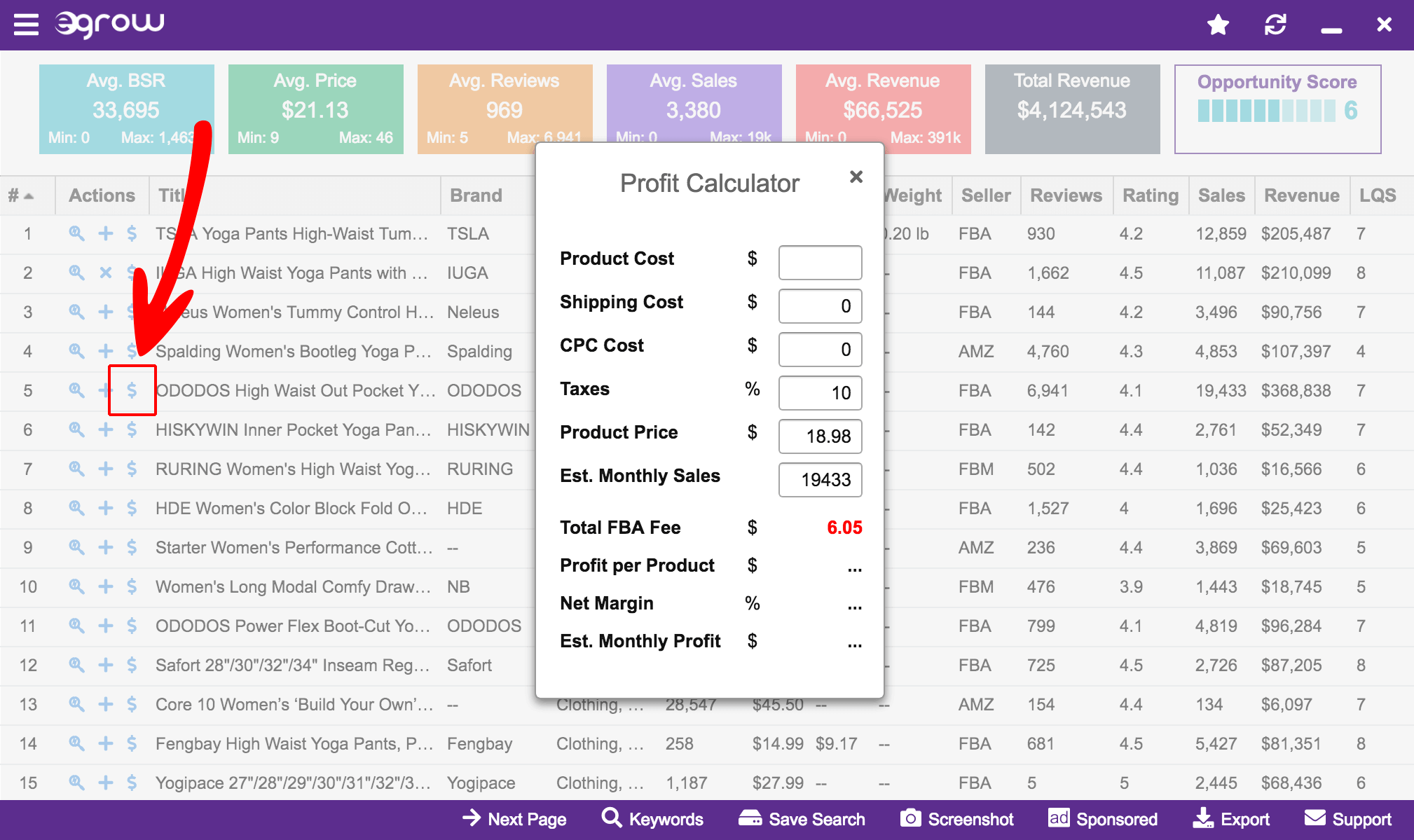 Bottom Navigation Menu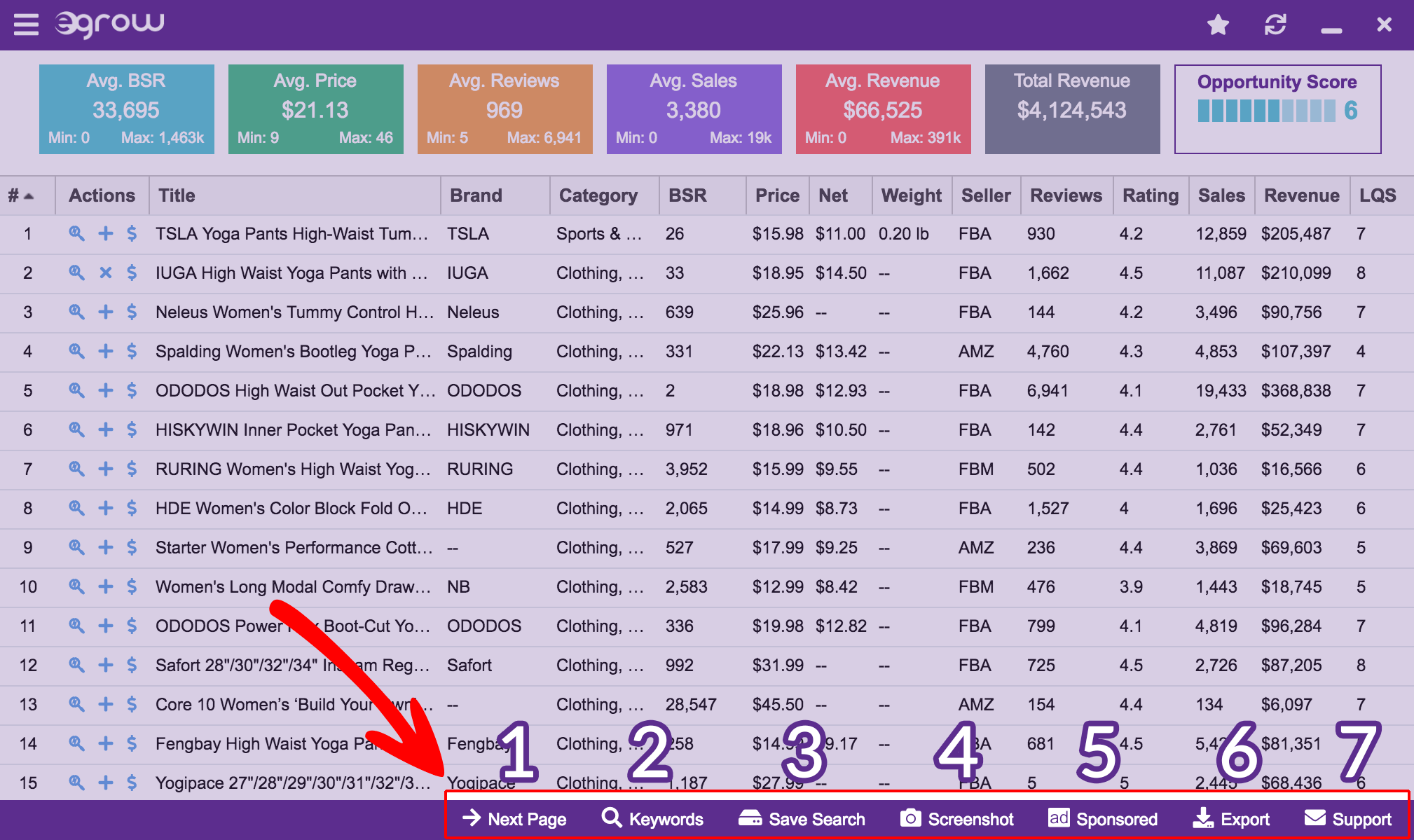 Next Page – load next page of Amazon results.
Keywords – dig inside Keyword and Niche Tool and find winning keyword ideas for optimizing your listing.
Save Search – profound tool located inside the member area will help you to organize keyword and product ideas. Backed with numerous of pre-calculated numeric data, this feature goes much beyond a simple Excel table and old fashion way of doing Amazon product research. Read more about Saved Searches tool here.
Screenshot – with single click save results as an image. All columns that could reveal product ideas are hidden from the image so you can share it with others and ask for feedback about the niche idea.
Sponsored – remove or add all sponsored ad products from results.
Export – save results to .CSV (Excel) file.
Support – contact us. We are here to listen to you. Every suggestion and feedback is highly welcome.
3 strong reasons to upgrade your Egrow membership today
Egrow is the best tool for Amazon sellers
If you compare all features, usability, speed, and quality of data with our competitors you will find out that Egrow is the best choice for Amazon market research.
While our competitors are investing over 50% of their budgets for paying "gurus" to promote them, Egrow's team is strictly focused on the quality and development of the software. We are carefully listening to the needs of our community members are constantly adding new features and improving existing ones.
Price goes up for every 100 clients
Once we've provided our service to the next 100 customers, the price of our product will gradually increase. However, if you sign up at a discounted rate, you will be able to lock in your plan for as long as you're subscribed.
50% OFF on yearly packages – coupon expires soon
You can save up to 50% on yearly packages with a discount coupon code "GROW50"
Visit upgrade page here – https://egrow.io/member/plans
Never miss a story from Egrow blog
Your Information will never be shared with any third party.